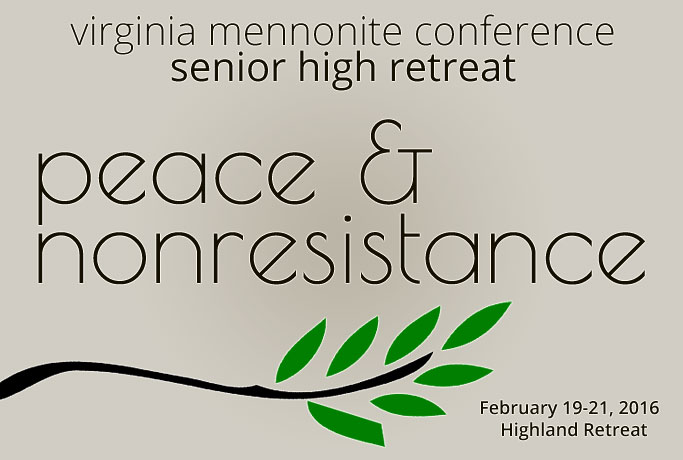 Speakers • Schedule • Items to bring • Registration Details • Directions • Registration Form
---
.
Speakers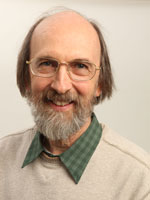 Titus Peachey
Titus will focus on big picture peace/violence questions using:
spectrum exercise to get everybody thinking about peace, violence and our personal responses
an Old Testament story which we would role play, to bring out the themes of imagination and courage
a story from the war in Laos to talk about the transformative power of peacemaking
He will also focus specifically on registration with Selective Service and military enlistment questions, using:
a New Testament story which we would role play to help us acknowledge the impulses toward violence in all of us
a Powerpoint about registration and enlistment, coupled with interviews of individual youth
a screening of several of the Ben Peters story videos (Ben is an Iraq War veteran now committed to peace.)
.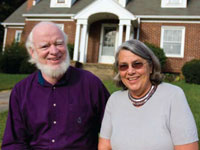 Earl & Pat Martin
.
Retreat Schedule
Friday, February 19

6:30 pm
Registration in Red Oak Lodge
8:00
Gathering: worship, getting acquainted, recreation

9:30
Sponsor meeting
12:00
Quiet time

Saturday, February 20

9:00
Brunch
10:00
Worship
10:30
Session #1

Small group time

Noon
Lunch
1:00
Snacks and free time
Suggestions: nap time, ultimate Frisbee, hiking, sledding, indoor games
5:00
Supper
6:30
Worship
7:00
Session #2

Small group time

9:00
Evening activity
12:00
Quiet time

Sunday, February 21

8:00am
Breakfast
9:00
Worship
9:30
Session #3

11:00
Clean-up and departure
To bring, or not to bring?
Items to bring:
Bible
Notebook and pen
Snacks
Indoor games
Outdoor recreation items, such as sled, Frisbee, etc.
Outdoor clothes
Sleeping bag, pillow and towel
Youth are discouraged from bringing phones and other devices that may be a distraction. Sponsors are asked to enforce this guideline.

Registration Details
Cost: $95 per person
Register online (below). Payment is due upon arrival at the retreat, however, payment in advance is preferred when possible. You can pay online via PayPal while registering (below), or if you prefer paying by check, make payable to VMC and mail to:
Virginia Mennonite Conference
Attn: Senior High Retreat
901 Parkwood Drive
Harrisonburg, VA 22802
Register your group early! Space may be limited.
Registration deadline: January 22, 2016
Cancellations or changes must be received by 8:00 am on February 5, 2016. After that date, no changes can be made and payment in full will be required.
Signed permission/release forms are required for each youth and must be turned in upon arrival at the retreat. Sponsors are responsible to provide this form to parents and to collect completed forms for submission. Please call (540) 434-9727 with any questions.
Directions
Location: Red Oak Lodge, Highland Retreat
14783 Upper Highland Drive
Bergton, VA 22811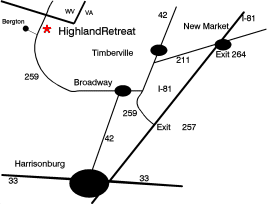 Directions to Red Oak Lodge:
I-81 exit 257 left on 11, then right on Mayland/Rt. 259. Follow Rt. 259 W for about 20 miles. From Harrisonburg, you can also take 42 north toward Broadway, go through Broadway, and at last light turn left onto Rt. 259 W. (an Exxon station is on the left). (Go approximately 17 miles on Rt. 259 W.) Highland Retreat is on the right, approximately 2 miles before the W. Virginia line. Follow the road past the Highland Retreat sign – it'll wind until it comes to Red Oak Lodge.