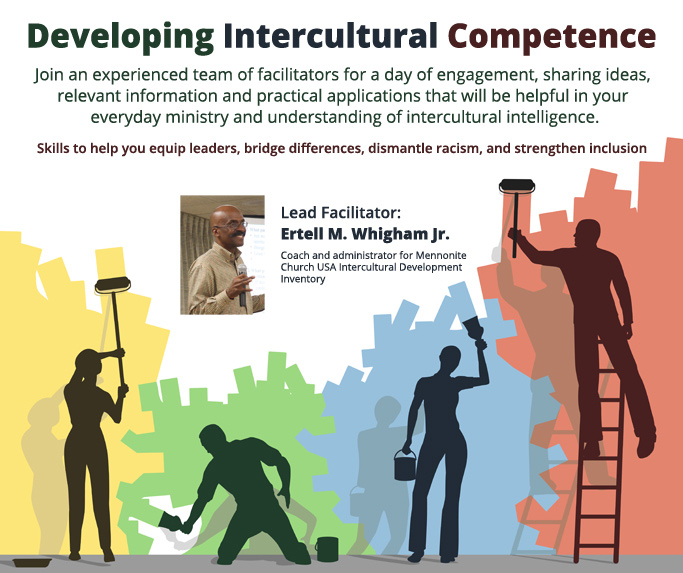 A Credentialed Leaders Consultation on "Developing Intercultural Competence" will be May 5 and 6 at Shady Oak (Weavers Mennonite Church), featuring Ertell M. Whigham Jr., one of 17 qualified administrators and coaches across Mennonite Church USA for the Intercultural Development Inventory, as lead facilitator.
Shady Oak is located at 2501 Rawley Pike, Harrisonburg, VA 22801. Registration begins at 8:00 am; session begins at 8:30.
Note that two dates are reserved: May 5 will be English-only, and May 6 will be bilingual, with Spanish interpretation available. Both days will have the same content aimed to increase intercultural competence through interactive conversation and information, so please register for one or the other.
As a founding pastor of the first intentional intercultural, bilingual Mennonite congregation in Mennonite Church USA, Ertell brings more than 25 years of practical and coaching experience. At a conference level, Ertell served as executive minister and CEO of Franconia Mennonite Conference where he was primarily responsible for implementing Intercultural Development equipping and resources at both leadership and organizational levels. He lives in Norristown, Pennsylvania.
How do we get to intercultural competence?
"Developing intercultural competence as a skill for bridging differences, dismantling racism, strengthening inclusion and equipping leaders is a necessary component for effective ministry," Whigham notes.
"We invite you to join an experienced team of facilitators for a day long engagement of sharing ideas, relevant information and practical applications that will be helpful in your every day ministry and understanding of intercultural intelligence."