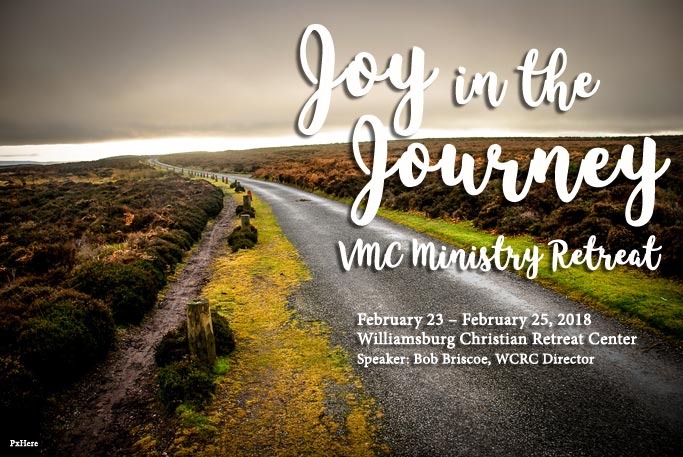 Credentialed leaders and their spouses are invited to a weekend VMC Ministry Retreat. There will be activities and input from Bob Briscoe, WCRC Director.
The theme of the weekend is "Joy in the Journey: A Focus on Re-creation." The location is the Williamsburg Christian Retreat Center, 9275 Barnes Road, Toano, Va.
Room check-in will be from 4:00 – 6:30 p.m. on Friday. (Dinner on your own.)
The first session will begin at 7:00 p.m.
Bob Briscoe began serving at WCRC in 2000 as the Assistant Program Director and has held the roles of Program Director, Operations Director and since 2008, Executive Director. He received a business degree from the University of Texas and a teaching certificate from the University of Houston. Bob's life was changed by Jesus in high school through a Campus Crusade for Christ ministry and shortly after that he was "led into the wilderness" at a camp in Colorado. There, his heart was captured by the simplicity and impact of camping ministry. After working four summers as a wilderness trail guide, he was able to begin full-time work in Christian camping beginning in 1993. Bob met his life-partner Lyn while working together in camp ministry. They have two biological children and three adopted children. Bob enjoys walking, boating, children's books, and fall colors.