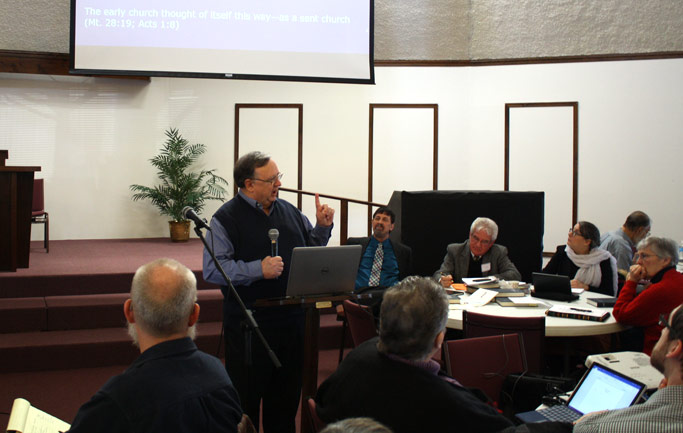 Dr. Art McPhee gives a presentation to delegates on The Mission of the Church.
.
At Virginia Mennonite Conference Winter Delegate Assembly on February 4, delegates engaged in worship, reflected on the mission of the church through a presentation by Dr. Art McPhee, met Eastern Mennonite University's new president, heard reports from Virginia Mennonite Missions and other agencies of VMC, wrestled with ongoing issues of polity, were updated on the findings of and response to the D. Stafford & Associates report, and voted with regret to release a congregation from membership.
.
Meeting materials
.
Delegate Session agenda
The Mission of the Church presentation by Dr. Art McPhee
CLC report
Gifts Discernment Committee ballot
Historical Committee report
Treasurer's report FY 2015-2016
Treasurer's report (narrative)
.
Resolutions, petitions and letters regarding polity and credentials
Resolution to FLC in Favor of Current Understanding and Polity on Marriage and Church Discipline
Resolution supporting reinstatement of Isaac Villegas credentials
Petition Favoring Reinstatement of Isaac Villegas Credentials
Letter of response regarding the request to reinstate Isaacs Villegas, from Bishop Francisco