Updates
Read the new Fall 2020 issue of VMC's quarterly publication Pathways.
---
Events
The Virginia Mennonite Conference Congregational Life Commission is sponsoring one-hour Zoom seminars in September and October in support of parents and teachers who are managing virtual learning. These small group interactive seminars are capped at 20 persons. See the attached flyer. Each seminar is $10. Register and learn more here.
Frazzled: Parents, Employees, and Now Teachers
(with Kate Corder, Licensed Professional Counselor, FLRC. September 30 | 7:00 pm)
In this time of COVID-19, parents are wrestling with confusing and frustrating roles of being good parents (seeing to the safety of their children and responsibility for their growth), achieving goals and being productive in their work organizations, and now needing to manage the education of their children in the home as many schools have gone to virtual learning. Such a "balancing act" is required, with limited time and so much responsibility. Parents who are not trained as teachers are now providing significant educational support for perhaps several children while facing the expectations of work. Many parents feel frazzled and overwhelmed by not knowing what is best and living into an uncertain future. On top of this, Seasonal Adjustment Disorder, beginning in September and October, can make changes and pressures even more difficult. Parents, you are not alone on this journey! This seminar will help you understand the emotions of being overwhelmed and equip you with easy and important coping tools to help when you are overwhelmed. These are not complicated or hard to remember, and only take a few minutes. We will also have some time for sharing our feelings and experiences.
Supporting Teachers Through Change
(with Matthew Swartzentruber, Licensed Professional Counselor, FLRC. October 7 | 7:00 pm)
Teachers face unique challenges with virtual learning. There are new expectations, new class schedules, new technologies, new ways of assigning and grading work, new processes for assisting and supporting students. Some teachers are doing all-online instruction, some are in hybrid models. How do you cope with so many new things? How can you thrive in an untested environment? The goal of this seminar will support teachers by bringing them together in a small virtual group, encouraging reflections and sharing together, and generating helpful ideas for self-care, resourcing, and networking.
---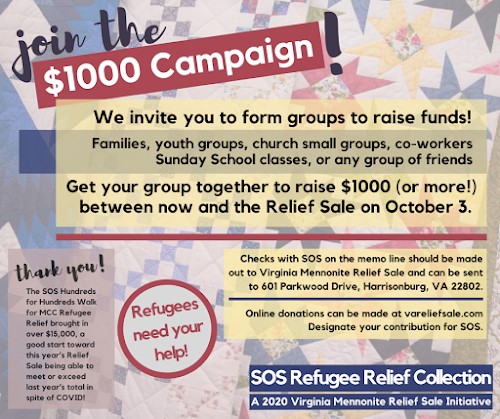 SOS Refugee Relief: To help raise funds for MCC and the Virginia Relief Sale, we encourage individuals to form groups to raise $1,000, with families, youth groups, church cell groups, co-workers or any group of friends joining together to raise $1000 (or more!) between now and the October 3 Relief Sale date. Checks with SOS on the memo line should be made out to Virginia Mennonite Relief Sale and can be sent to 601 Parkwood Drive, Harrisonburg, VA 22802. Contributions can also be made online at https://vareliefsale.com/donate/ and cash, checks and pledges can be dropped off next to the MCC display at the fairgrounds October 2-3. This is an opportunity to show our compassion at a time when so many of our world neighbors are in unimaginably desperate need.
---
Employment Opportunities
Virginia Mennonite Missions seeks a Director of Support Services at 60% FTE. This individual will give oversight to the support services of VMMissions including finance and investment management, human resources, risk management, insurance and legal compliance, and facilities, all with a view to undergird VMMissions' efforts to make disciples of Jesus from many cultures (Matt. 28:19). Qualified applicants should demonstrate an active faith in Jesus Christ, a commitment to the church, and a passion for God's mission. Contact Dianna Lehman at dianna.lehman@vmmissions.org. More details at https://vmmissions.org/now-hiring/.
Ridgeway Mennonite Church seeks a highly organized individual to serve as part-time Church Office Administrator beginning mid-October, 2020. This position helps to facilitate the smooth and efficient functioning of the church office with attention to administrative details necessary for the ministry and worship of Ridgeway Mennonite Church as we seek to be the living presence of Jesus. Ideal candidate would be available to work 20-25 hours per week, with some evening and weekend hours. Administrative assistant experience preferred. Office hours will be established in consultation with the pastor. To submit interest, please contact Marcy Engle at 540.435.1044 or englemm@aol.com.