Executive Conference Minister – Clyde G. Kratz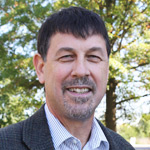 In 2013, Clyde Kratz accepted the call to serve Virginia Mennonite Conference as executive conference minister, where he maintains the same objectives that guided him through over 30 years of pastoral ministry: setting and casting vision, strategic planning, equipping leaders, networking, relationship building, and staff supervision.
Clyde's call to ministry is rooted in his family of origin, the Franconia (PA) Mennonite Church that his parents and grandparents committed to, and a personal sense of call to serve in ministry. Family commitments to Sunday school and worship led to frequent Sunday lunch conversations about the sermon and Sunday school lesson, a personal commitment to Christ at age 15, a core identity tied to a local congregation, and a willingness to respond positively to the leadership initiatives of the congregation.
When four congregational leaders announced their retirement date, he recognized his own call for church leadership, deep longing to honor God by being available for ministry, and confirmed his willingness to serve in congregational ministry. On November 22, 1981, the Franconia Mennonite Conference provided a ministerial license for service as their bi-vocational minister to youth. To supplement the traditional "love offering" compensation, he worked 60 hours per week as a truck tire specialist at Moyer Packing Company, in Souderton, PA.
Longing for more skill development, with the counsel and affirmation of Richard C. Detweiler, then president of Eastern Mennonite University, Bishop John E. Lapp, and local church leaders, in the fall of 1983, he enrolled at Eastern Mennonite University and, with his wife, Eunice, and their three children, moved to Harrisonburg, Virginia. After graduation with a degree in Biblical studies and theology and a minor in family studies, he continued educational pursuits at Eastern Mennonite seminary (masters in divinity) and later at Princeton Theological Seminary (doctor of divinity and masters in theology program).
After seminary, he was ordained by the Lancaster Mennonite Conference for service as the lead pastor of New Holland Mennonite Church, New Holland, PA. Besides New Holland, Clyde has served as overseer of the North District (VMC), full time pastor at Zion Mennonite Church in Broadway, VA, and as a part time pastor at Weavers Mennonite Church in Harrisonburg VA, and, as stated earlier, Franconia.
To maintain identification and networking opportunities in the local community, he has opened a mediation service, Kratz Mediation Services, and been an active participant in the Broadway Timberville Ruritans, the Broadway Timberville Ministerial Association, an ecumenical association of local congregations. He has participated on several committees, commissions and task forces for VMC.
His utilized his leadership gifts in various other assignments including the Science Department Advisory Committee at Eastern Mennonite High School, a board member of Mennonite Economic Development Association of Harrisonburg, and a trustee at Eastern Mennonite University.
In the 1990's, MennoMedia, formerly Herald Press, contracted with him to write four Adult Bible Study Guides for Sunday School lesson.
Recognizing that pastoral ministry is relational, his ministry has been enriched through the ability "to hear" and "be heard". He remains committed to the body of Christ through the local congregation, collaborates through a regional conference, and participates in giving and receiving counsel within the Mennonite Church USA.