Events
Mennonite Church USA Events
Help make this season of anticipation more meaningful for the little ones in your life by joining Talashia Keim Yoder for a special one-hour Mennonite Church USA webinar for parents and caregivers, "Advent with Children" on Sunday, November 22, at 3 p.m. ET., Keim Yoder will share creative ways to celebrate Advent as a family and offer suggestions for how to use this year's Advent at Home Guide. Kindly register for the Zoom webinar by Thursday, November 19: https://bit.ly/37Lttbo
---
Sunday, November 29, is the beginning of Advent. "We Wait for Jesus," this year's Advent At Home devotional from Mennonite Church USA for families and people of all ages, is available now at mennoniteusa.org/resource/advent-at-home. This easy-to-use resource includes suggested Bible readings, activities and simple celebratory rituals you can do together. The flexible, intergenerational format makes it ideal for families of all sizes and ages. Use it for all of Advent to Epiphany (November 29 through January 6), just for Christmas week or whatever rhythm works for your household.
---
Organizers for MennoCon21 (Cincinnati, Ohio, July 6-10, 2021), the biennial gathering of Mennonite Church USA, are planning a hybrid event with in-person and online programming. Read the first convention newsletter. Receive future issues by subscribing here: http://eepurl.com/gbyUCj
---
Employment Opportunities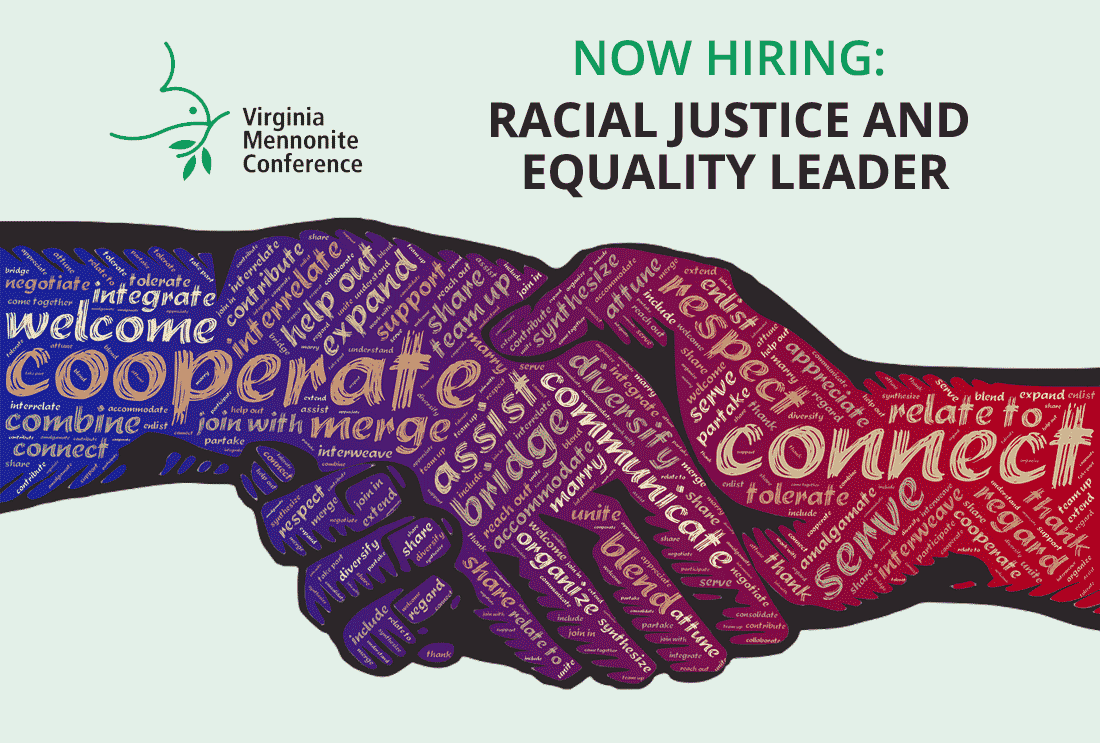 Hiring! Virginia Mennonite Conference is seeking a Racial Justice and Equality Leader (0.25 FTE), who will lead and facilitate the conference's Anti-Racism mandates: to equip members, to learn about existing racism, to develop leadership strategies, and to equip conference leaders. Visit virginiaconference.org/job-openings for a full job description, or contact Clyde Kratz (clyde.kratz@virginiaconference.org) for more details.
---
Virginia Mennonite Missions seeks a Director of Support Services at 60% FTE. This individual will give oversight to the support services of VMMissions including finance and investment management, human resources, risk management, insurance and legal compliance, and facilities, all with a view to undergird VMMissions' efforts to make disciples of Jesus from many cultures (Matt. 28:19). Qualified applicants should demonstrate an active faith in Jesus Christ, a commitment to the church, and a passion for God's mission. Contact Dianna Lehman at dianna.lehman@vmmissions.org. More details at https://vmmissions.org/now-hiring/.
---
Virginia Mennonite Retirement Community (VMRC), a Virginia Mennonite Conference-Endorsed Ministry, is seeking qualified candidates for Vice President of Human Resources. This position is responsible for leadership of the Human Resources service line consistent with VMRC's faith-based vision and values and its mission of being a community of hope, meaning and growth for persons to age well and live fully. Serves as an active member of the Executive Team in operationalizing the strategic imperatives of the organization. The VP of Human Resources provides strategic leadership by articulating Human Resource needs and plans to the executive team, organizational leadership, and other stakeholders. Learn more details here.
---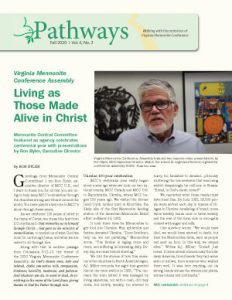 Read the new Fall 2020 issue of VMC's quarterly publication Pathways.
---