Beldor Church (2512 Beldor Rd, Elkton, VA) will host a Raymond Stepp & Friends bluegrass concert on Sunday, August 1, at 6:00 p.m. Join us for great music and a light snack following the concert.
---
Harrisonburg Mennonite Church will be offering a Community Women's Bible Study from September 7 to October 19, Tuesdays from 9:00-11:00 a.m. The seven-week study will be JONAH by Priscilla Shirer. You may pick up a registration form in the foyers of HMC or find one online at this link: Church Calendar — Harrisonburg Mennonite Church. If you have questions you may call Jeannie Smith at (540) 820-0136.
---
Attention singers (ages 5-17)! Nationally acclaimed Shenandoah Valley Children's Choir (SVCC) is holding virtual auditions on August 18, 19, & 20, 2021. For children and youth interested in developing excellent musicianship, participating in artistic performances, and building meaningful relationships, SVCC is the place to be! For more information: svcc.org. To schedule an audition: 540-432-4650 or svcc@emu.edu.
---
Virginia Mennonite Relief Sale
My Coins Count is a fun way to raise money for projects of Mennonite Central Committee (MCC) and Virginia Mennonite Missions (VMMissions). Funds raised will be shared evenly between VMMissions and MCC. This year's VMMissions projects are the US-based family discipleship ministries of workers Hannah Shultz and Seth & Theresa Crissman. The MCC project is for classroom supplies at six Brethren in Christ schools in rural Zambia. Learn more about the projects and My Coins Count here.
SOS: The Hundreds for Hundreds annual walk to directly support refugees as a part of the Virginia Relief Sale will be August 29, at 6:00 pm starting from the Community Mennonite Church parking lot, Harrisonburg, Va. Seek sponsors for your walk and encourage donations to ease the suffering of millions of people driven from their homes. For more information: https://www.facebook.com/RefugeeSOS or call Mark Keller at (540) 820-4387.
---
Virginia Mennonite Retirement Community
Check out the Park Gables Gallery at VMRC, entitled Guitars For Music, July 7-August 29. Hours are Monday-Friday, 10 am to 7 pm; Saturday-Sunday, 10 am to 5 pm. This is a benefit for Harrisonburg Music Teachers Association, with guitars donated by Yamaha. See the event poster.
---
Mennonite Women of Virginia
Mennonite Women of Virginia Retreat is scheduled for November 12-14 at the Richmond Marriott Short Pump. Dawn Mast will be speaking on "God's Faithfulness," Rachel Stutzman will lead music, and there will be many other opportunities for fellowship and renewal.
EARLY REGISTRATION closes on August 15. The final registration deadline is October 8. Registration forms have been sent to the churches or you may email mwvsecretary@gmail.com to receive a form or if you have any questions.
---
Lombard Mennonite Peace Center
Registration is now open for Mediation Skills Training Institute for Church Leaders, to be held on October 11-15 and November 15-19, 2021, hosted by Lombard Mennonite Peace Center (Lombard, IL). The two identical sessions will be held remotely via Zoom. This workshop is designed to help church leaders deal more effectively with interpersonal, congregational, and other forms of group conflict. For details consult this MSTI Brochure. For a complete list of training events being offered by the Lombard Mennonite Peace Center — including our one-day Conflict Transformation Skills and Healthy Congregations — please consult this LMPC 2021 Program Calendar. For online registration go to our website at www.lmpeacecenter.org/all-events. Plan now to take advantage of these outstanding opportunities for spiritual and professional growth!
---
Employment Opportunities
Agencies
A Childcare and Homeschool Assistant is needed in the northeastern Ubon Ratchathani province of Thailand. Empower pioneer missionaries through child care and home-school help. Experience with caring for young children and previous cross-cultural experience preferred. There is a two-month minimum commitment, up to one year, with open-ended start and end dates. Travel with the family, assist with homeschooling, and have a front-seat experience of a pioneering cross-cultural mission. Learn more about the assignment here.
---
Eastern Mennonite School K-12 is seeking applicants for a person to join the dining hall team for day-time hours with benefits, including tuition assistance. Contact Deb Pardini to learn more: pardinid@emhs.net or 540-236-6008.
Eastern Mennonite Elementary seeks a part-time Spanish teacher. Contact Maria Archer, archerm@emhs.net or 540-236-6002.
---
Eastern Mennonite University seeks candidates for a number of positions.
The Alumni and Parent Engagement Department seeks an Events and Volunteer Coordinator.
Director of Campus Life position
EMU Roselawn administrative assistant job opening: This position includes office management and coordination, program chair support, and program support. It supervises and coordinates a team of work-study students. If you have these skills and want a couple months off in the summer see https://emu.edu/hr/openings for more information and apply.
---
Job Opportunities at Pleasant View:
LPN (Licensed Practical Nurse) Full or Part-Time
Pleasant View Inc is currently accepting applicants for Part-Time and Full-Time LPNs for all shifts located in Harrisonburg, VA. The LPN will be working at our 15 bed Intermittent Care Facility. LPN will work under the supervision of the Program Manager. $15 – $21 an hour.
Direct Support Professional Full-Time
Pleasant View Inc is currently accepting applicants for full-time and part-time Direct Support Professionals for 2nd and 3rd shifts depending on location in Broadway, VA or Harrisonburg, VA. There is a shift differential for 2nd and 3rd shift positions.
---
Mennonite Mission Network, Elkhart, IN is seeking to fill two senior level positions: Senior Executive of Ventures (Help create, foster, and deliver collaborative programs and services to our constituents and partners) and Senior Executive of Operations (Oversee administrative and operational functions of the organization). Detailed position descriptions are here. Letters of interest and resumes should be emailed to StaffRecruitment@MennoniteMIssion.net.
Congregations
Asheville Mennonite Church, Asheville, NC, seeks a half-time pastor. Please send inquiries to Julia Burdette (jburdette8511@gmail.com).
---
Durham Mennonite Church, Durham, NC, seeks a quarter-time pastor. Please send inquiries to Cheryl Van Horn, search committee chairperson, at vanhornsc@nc.rr.com.
---
Greensboro Mennonite Fellowship, Greensboro, NC, is seeking a quarter-time pastor. Please send inquiries to John Bender at gmfgreensboronc@gmail.com. See church information on Facebook.
---
Harrisonburg Mennonite Church is seeking a Pastor of Community Life. Seeking a half to full time pastor to help foster our life of discipleship together through Anabaptist learning, mutual support and care, and ministry together in our local community. We are looking for applicants that work well in a team, are passionate about the Person and Way of Jesus, and who have a heart to demonstrate and proclaim the Good News in our local and global communities. Those interested should contact Pastor Jake Lee at jlee@harrisonburgmennonite.org.
---
Powhatan Mennonite Church, a small, rural fellowship in the heart of Virginia seeks a full-time pastor with experience in teaching, preaching and mentoring. To learn more about us, go to www.pmchurch.net or email us at churchsecretary65@gmail.com for our mission statement and a general job description.
---
Ridgeway Mennonite Church seeks a highly organized individual to serve as part-time Church Office Administrator beginning August 2021. This position helps to facilitate the smooth and efficient functioning of the church office with attention to administrative details necessary for the ministry and worship of Ridgeway Mennonite Church as we seek to be the living presence of Jesus. Ideal candidate would be available to work 20-25 hours per week, with some evening and weekend hours. Administrative assistant experience preferred. Office hours will be established in consultation with the lead pastor. To submit interest, please contact Marcy Engle at 540.435.1044 or englemm@aol.com.
---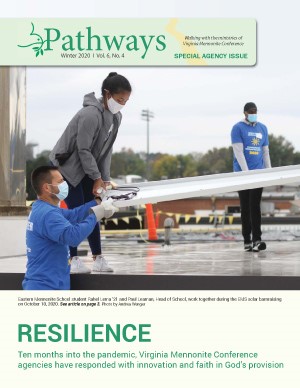 Read the new Winter 2020 issue of VMC's quarterly publication Pathways.
---