Virginia Mennonite Conference
Congregations, please the new VMC Financial Forwardings form for sending congregational funds to multiple ministries locally or across the denomination with one check.
Did you know that various grants are available through Virginia Mennonite Conference? Learn more about three different types of grants, and find applications at on the Resources page under Grants.
---
Virginia Mennonite Missions
Join the 5K for Missions, a fundraising event during the month of April that allows runners and walkers of all ages and skill levels to get outside and show their support for Virginia Mennonite Missions. Registration for the event includes a T-Shirt, and the opportunity to compete, or just participate for fun. Registration is $30 per person. All participants are encouraged to increase the value of your 5K by inviting others to sponsor your miles. We suggest that the donor sponsor at least $5/mile, or a flat donation of any amount desired. There will be prizes for the individuals who raise the most money. Learn more and register here.
---
Pleasant View Inc.
Pleasant View is celebrating 50 years of providing home and community-based supports to individuals who have developmental disabilities. During the Great Community Give on April 21, 2021 from 1pm to 3pm come to Pleasant View's Harrisonburg Day Support Services Building at 151 Commerce Drive to help us celebrate and enjoy an outdoor dance party and games. If you missed our 11pm to noon Great Community Give Power Hour (www.tinyurl.com/Give2PVI) but were intending to donate to us, you will also have the opportunity to make a Great Community Give donation. Human Resources will also have applications and be available to talk about career opportunities at Pleasant View. For more information, contact Pam Miller at 540-560-1134 or go to our events page at pleasantviewinc.org.
Pleasant View is celebrating 50 years of providing home and community-based supports to individuals who have developmental disabilities. On May 21, 2021 Pleasant View will hold our 24th Annual Charity Gold Tournament at Spotswood Country Club. We invite you to join us as a sponsor and/or team and help individuals with disabilities live in and enrich their communities. For more information, contact Pam Miller at 540-560-1134 or go to our events page at pleasantviewinc.org.
Executive Director, Kevin Paluszak, will be at both events and would love to meet you.
---
Mennonite Mission Network
Learn about the Potawatomi Trail of Death with Youth Venture. On this nine-day trip, participants will camp along the trail and acknowledge markers while discussing the history and present-day realities for Indigenous peoples in the U.S. Visit MennoniteMission.net/YouthVenture to learn more. Deadline is May 1!
Want to be an integral part of a young adult's life? Become a unit leader for Service Adventure, a gap-year program for ages 17-20 from Mennonite Mission Network. Unit leaders, who are at least 24 years of age, serve as mentors to the young adults in the Service Adventure household. Leaders are needed in Colorado Springs, CO and Johnstown, PA. Learn more by contacting SusanN@MennoniteMission.net.
---
Mennonite Church USA
The 2021 Delegate Assembly will be a shortened virtual event with a limited agenda. Whether you travel to Cincinnati or connect from the comfort of your own home, we hope to see you participate in the delegate process. The Delegate Assembly is your opportunity to not only speak to the establishment of general policies and the development of programs to carry out those policies, but it is also an opportunity for you to connect with and listen to the various members in our great and diverse denomination. Check out the FAQ page to see how many delegates you are allowed as well as the registration process. Stay tuned for more details posted on the delegate tab of the convention website.
---
Eastern Mennonite University: New Music and Peacebuilding Major
EMU is pleased to offer a new interdisciplinary major, called Music and Peacebuilding. This program draws in the best of the music department as well as peacebuilding and development for those interested in transforming conflict through building common ground with music. Please share with students who may be interested in this program. For more information, contact the adviser of this program, Benjamin Bergey: benjamin.bergey@emu.edu
---
Mennonite Women of Virginia
Mennonite Women of Virginia is looking forward to having our annual retreat (which was cancelled last year because of COVID) on Friday, November 12, through Sunday, November 14, 2021, at the Richmond Short Pump Marriott. The speaker will be Dawn Mast. Please mark your calendars and plan to attend! More information and registration forms will be coming this summer.
---
Eastern Mennonite School
Registration is open for the Eastern Mennonite School annual golf tournament on Friday, April 30 to support EMS athletics and student financial aid. $100 fee includes green's fees, cart, range balls, door prizes and boxed lunch by Hank's Smokehouse Catering. Morning flight at 8 a.m., and afternoon at 1 p.m. at Heritage Oaks Golf Course. Find out more and register at easternmennonite.org/golf
EMS is planning to hold their annual Community Service Day on Friday, May 21, 2021, rain or shine. Due to the pandemic, we are looking at alternatives to many of our usual work sites. We are hoping to be able to offer a number of outdoor alternatives for two or three students rather than the large groups we've managed before. Do you know of any families or individuals in your congregation who could use: Yard clean up, Gutter cleaning, Exterior paint scraping/touch up, Lawn mowed, Garden/flowerbed preparation (weeding, mulching, etc.) If you have questions or would like to be added to our list to receive more information about participating, please email Christine Fairfield, fairfieldc@emhs.net or call 540-236-6000.
---
Bike Shenandoah
Save the date for Saturday, September 18, 2021, for Bike Shenandoah's annual ride through the beautiful Shenandoah Valley. This is a significant anniversary for enjoying this event together, as we partner with the Stephen R. Leaman Memorial Endowment for Missions as one of our ongoing beneficiaries of the ride. Although our organizing committee puts great effort in preparation and organization of this event, YOU make it a success. Please help us spread the word and keep this tradition alive and growing. Visit Bike Shenandoah's website for updates and to register when available.
---
NewBridges Immigrant Resource Center is a nonprofit located in Harrisonburg and serving Harrisonburg and the Shenandoah Valley. Our mission is to engage immigrants, connect cultures and build community with a vision for a thriving community that everyone can call home. We provide immigration legal representation from one of our two Department of Justice Accredited Representatives, Health Navigation services which help clients navigate medical expenses and billing, and numerous other services including document translation, information and referrals. We invite you to join us in celebrating our immigrant community by participating in the 4th annual Great Community Give on Wednesday, April 21st. Join the giving at: https://www.greatcommunitygive.org/organizations/newbridges-immigrant-resource-center
Join us in welcoming our immigrant neighbors, colleagues, and communities and learn more about their work on our website, newbridgesirc.org, and be sure to check out the most recent newsletter, Building Community, today!
---
Employment Opportunities
Hiring! Virginia Mennonite Conference is seeking a Racial Justice and Equality Leader (0.25 FTE), who will lead and facilitate the conference's Anti-Racism mandates: to equip members, to learn about existing racism, to develop leadership strategies, and to equip conference leaders. Visit virginiaconference.org/job-openings for a full job description, or contact Clyde Kratz (clyde.kratz@virginiaconference.org) for more details.
---
Virginia Mennonite Missions seeks a Human Resources Manager at up to 60% FTE. If full-time work is desired, additional responsibilities may be added according to applicant's qualifications. This individual will be the primary human resources officer for VMMissions, handling employment applications, coordinating employment hire and termination events, managing payroll, and administering benefits, all with a view to undergird VMMissions' efforts to make disciples of Jesus from many cultures (Matt. 28:19). Contact Melanie Sherer at melanie.sherer@vmmissions.org. See more details here.
---
MennoMedia seeks an Acquisitions Editor for Herald Press (1 FTE, Salaried, Location: TBD). The Herald Press acquisitions editor is responsible for acquiring 18–24 nonfiction book manuscripts annually for a wide swath of readers in areas including Christian living, contemporary issues, missions, peace and justice, spirituality, cookbooks on food and faith, as well as Amish- and Mennonite-themed cookbooks and nonfiction titles for both a tourist and a denominational audience. The acquisitions editor is part of the Editorial Department and reports to the Executive Director.
---
Indiana-Michigan Mennonite Conference (IMMC) is seeking a part-time (one-half to three-quarters) pastor for the Conference Pastor team. If you (or someone you know) are energized by working with pastors and leaders, visioning a new future for the Conference, dismantling racism, supporting diversity (racial/ethnic, rural/urban, new and established congregations), and listening for God's call for the church, we would love to hear from you. The job description is posted on the IMMC website. Please submit applications and/or questions to the search committee: immcsearchcommittee@gmail.com
---
Mennonite Education Agency seeks an Executive Director. MEA is an agency of Mennonite Church USA whose primary focus is helping to grow local congregations through Christ-centered, Anabaptist-Mennonite educational vision and practice in affiliated schools and educational programs. The MEA Executive Director has a deep commitment to a Christ-centered Anabaptist understanding of faith and life, reports to the Mennonite Education Agency Board of Directors, and is accountable to the Executive Board of Mennonite Church USA. Learn more about the position here.
---
Weavers Mennonite Church, a rural/suburban congregation near Harrisonburg, VA (ave. attendance 120 pre-covid) seeks a full-time lead pastor. Responsibilities include preaching, teaching, and working with the Administrative and Pastoral Councils. Interested persons should contact Isaac Driver at ikrightdrivers61116@gmail.com
---
Powhatan Mennonite Church, a small, rural fellowship in the heart of Virginia seeks a full-time pastor with experience in teaching, preaching and mentoring. To learn more about us, go to www.pmchurch.net or email us at churchsecretary65@gmail.com for our mission statement and a general job description.
---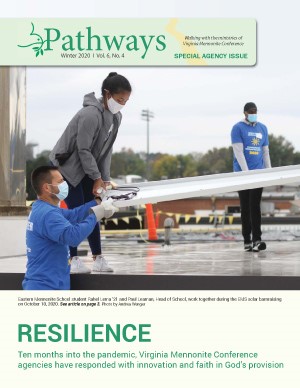 Read the new Winter 2020 issue of VMC's quarterly publication Pathways.
---