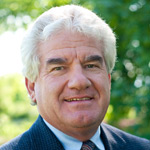 Faith formation in the congregational life
January 21, 2016
by VMC Staff
At 19, I left the farm and my family near Goshen, Indiana, and traveled to Costa Rica, Central America, to engage in voluntary service during the Vietnam War.
I was five months into my 26-month stay, crazy homesick, and in a real spiritual crisis. My childhood and youth of attending three church services a week, participating in regular family devotions and in dozens of youth group projects and singing with a multiple-church Mennonite youth choir had not prepared me for the pain of thinking and feeling like God had abandoned me.
I felt very alone even in the middle of considerable support from my co-worker and from the mission agency. After weeks of fitful and angry prayers with God, mostly at night, it dawned on me that God hadn't abandoned me at all. He was walking ahead of me and beckoning me to trust him, to move beyond my comfort zone and follow him in the hard work of learning Spanish, living and relating in a cross-cultural setting, and contributing to the church's mission.
Paul's words in Romans 8:39 took on new meaning for me: "for nothing will be able to separate (me) us from the love of God that is in Christ Jesus our Lord."
It took a while for me to realize what had sustained me during my first crisis of faith, and others since that time.
It was my parents who modeled and talked with me openly about what it means to walk by faith in difficult times (financial, family and church problems, etc).
It was youth group Bible study teachers who talked honestly about the joy and cost of living for Jesus.
It was church people who got me involved in leading singing, teaching Sunday School and giving leadership to youth activities: tasks that took me out of my comfort zone. They then encouraged me in spite of my mistakes.
It was adults who gave their time, taught me by sharing faith stories and then encouraged me to grow in faith.
In his book, The Courage to Teach, (1998, p.21) Parker J. Palmer writes that "the power of mentors is their capacity to awaken a truth within us, a truth we can reclaim years later by recalling their impact on our lives."