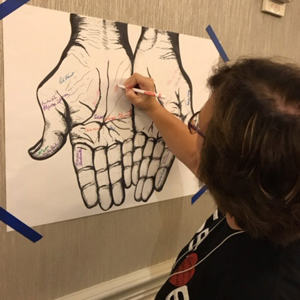 Rooted in Christ as God's beloved daughters
February 20, 2020
by Marian Buckwalter
Chair of Mennonite Women of Virginia
When did you last splotch colors of paint on your hand, then stamp your handprint on paper? This was the beginning of a beautiful piece of art at Women's Retreat as we reflected on being
Rooted in Christ.
Each session we added something more to the picture — roots growing deep, branches high and wide, colorful fruit. At the end of the retreat we wrote our names on a drawing of hands open and outstretched to us. Beloved daughters, we are held in God's hands. God knows us by name. Just before retreat I'd had a monologue with God. "Why do you keep bringing certain situations into my life? I don't know how to handle them. I'm not patient enough. I'm not assertive enough. I'm not skilled in this area. You should find someone else!"
That evening, in our first session, speaker Deb Horst, associate pastor at Lindale Mennonite Church, shared a similar story. Her response when God called her to pastoral ministry was a whole list of "I'm Not's." God stopped her and said, "But I AM!"
Her story hit me in my gut. My earlier monologue had to become a conversation.
I had to start listening to God in this matter. As I took time to sit and listen, I heard God say, "I have chosen you for this. I have gifted you. Besides, it's not about you; it's about ME!"
I asked God for three things: God's peace to fill me; the ability to listen well; and the courage to speak honestly and openly. Uncomfortable situations keep coming. I still resist sometimes, but God nudges me to embrace them, and faithfully provides what I asked for.
These yearly retreats help keep me and many other women rooted, growing, and fruitful in Christ. Time away—to connect and reflect, to pray and play—refreshes us, so we are better able to be a neighbor to people close at hand, or far away. The annual events of Mennonite Women of Virginia — Women's Retreat, the Women Encouraging Women day, and the Prayer Breakfast are now in English and Spanish. They offer opportunities to hear what God is doing in many parts of the world, and to give to many parts of the world.