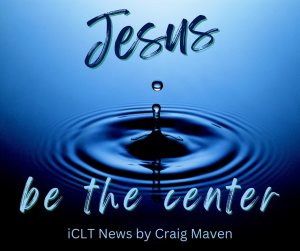 iCLT News – Jesus at the Center
March 17, 2023
by Craig Maven
Minister of Administration and Church Relations
On February 24, iCLT met for a whole day to debrief after Winter Delegate Assembly, and to take the next step in defining our role and mission as iCLT. We felt to led to embrace iCLT's mission as calling us to put Jesus at the center. That immediately put the song, Jesus, Be the Centre in my head as an earworm. It keeps coming every time I think of our mission:
Jesus, be the centre
Be my source, be my light
Jesus
Jesus, be the centre
Be my hope, be my song
Jesus
Be the fire in my heart
Be the wind in these sails
Be the reason that I live
Jesus, Jesus
Jesus, be my vision
Be my path, be my guide
Jesus
What does that mean? Jesus at the center of VMC? Please do not take this as some trite quip. This is not a magic incantation that will resolve VMC's dilemmas. It is not a mantra to be repeated with our fingers in our ears, blocking out disagreements and unwanted voices. It is meant to remind us that Jesus is the Head of the church. And that we as members of the one body are all joined and fitted together in Jesus (Ephesians 4:15-16).
Jesus at the center means we do the hard work of listening and truth telling. Jesus at the center means we own our missteps, miscalculations, mistakes, and misspoken words. Jesus at the center means we live into the reality of the simple prayer, "…And forgive us our trespasses, as we forgive those who trespass against us…"
Let me clear, I have yet to meet anyone who is part of Virginia Conference and has said, "I do not want Jesus at the center." I don't think such a person exists. However, like the proverbial sheep of so many of Jesus' parables we get distracted and wander, we get frightened and bolt, and we get led astray. Jesus at the center means we accept the loving tug of the shepherd's staff and return to where Jesus is.
Perhaps what captured my imagination is this: Jesus at the center means grace is at the center. For I am constantly in need of God's grace, and I constantly need grace from the believers who sojourn with me. I suspect that is true for us all.
Jesus, be the centre…