Virginia Mennonite Conference Assembly
June 12, 2021 // 8:00 am - 12:00 pm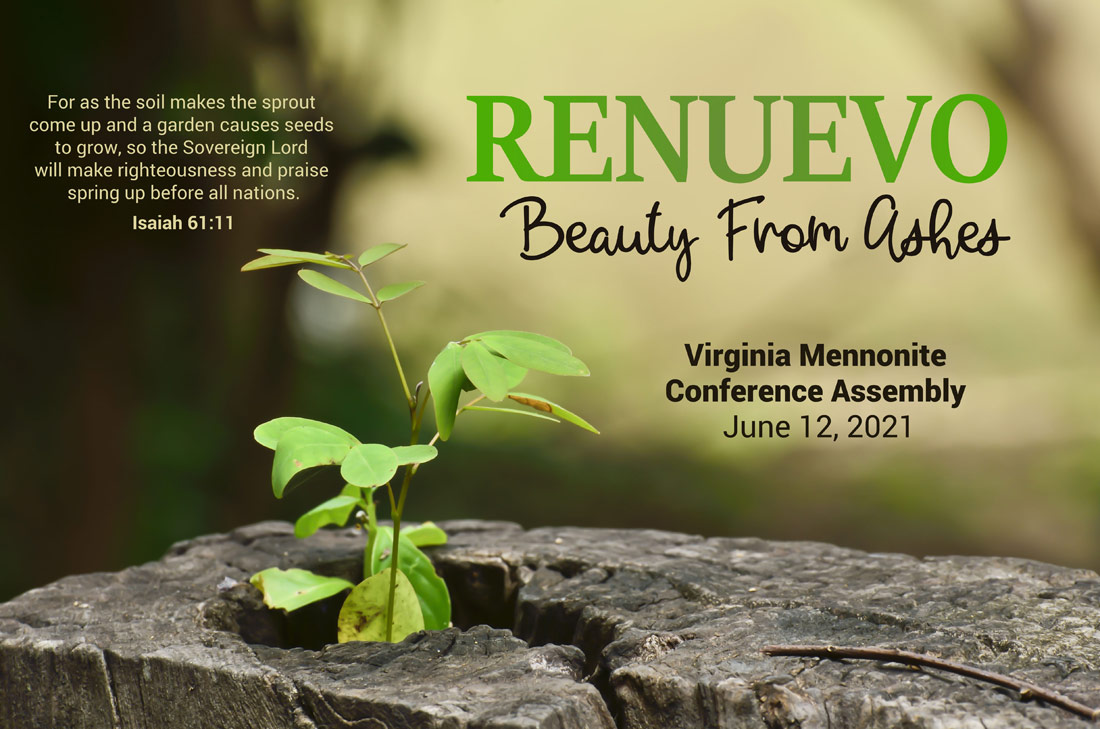 ---
Letter of Welcome and Introduction
Register for Assembly & Resource Materials
---
(botany)
a. shoot
b. sprout
(act of renewing)
a. renewal; the action and effect to renew; achievement


Delegates of Virginia Mennonite Conference,
The theme for our Summer Assembly on June 12, 2021, is "Renuevo: Beauty From Ashes," based on Isaiah 61. The guiding verse is "For as the soil makes the sprout come up and a garden causes seeds to grow, so the Sovereign Lord will make righteousness and praise spring up before all nations" (61:11). The planners of Assembly sought to acknowledge the difficulties of this past year of restricted access to our meetinghouses, limited in-person relationships, and a restricted culture. The beginning of our day together will be a focus on lament. As we come back from our morning break, the focus will shift to the aspirations for our future, anticipating the beauty that lies ahead.
On June 1, 2021, I will begin my sabbatical and return to my role on September 1, 2021. June Miller, Office Manager and Strategic Marketing, will coordinate the work of our Conference in my absence. June, along with Richard Early, Moderator, and Joe Longacher, Interim Chair of the Faith and Life Commission, are scheduled to meet bi-weekly in order to coordinate the work of the Conference. I have full confidence in June's leadership to guide the work of the Conference in my absence. Her office hours are from 9am – 4pm, except Tuesdays.
The learning theme of my sabbatical experience is the "African American Experience in America." I have planned two separate learning trips. The first one is a focus on the colonial time period visiting Richmond, Va, to view museums associated with slavery; Washington, DC, to visit the African American Museum, and Philadelphia, Pa., to view a focus on the Underground Railroad. The second learning trip focuses on Jim Crow and the Civil Rights Movement. This trip includes stops in Atlanta, Ga., Birmingham and Montgomery, Ala., and Memphis, Tenn. In each of these cities it is my plan to visit museums associated with the civil rights movement. Reading numerous books will be part of this experience as well.
As a delegate, you will receive a Delegate Packet by May 28, 2021. June and Jon Trotter, Communications Manager, have finished up the 2021 Reports and Statistics Book which is available as a PDF.
Please register for the Summer Delegate Assembly as soon as possible if you have not done so.
Shalom,





Clyde G. Kratz
Executive Conference Minister

Resources
2021 Delegate Packet with agenda and actions
2021 Reports & Statistics Book

View the Letter on Race Relations in VMC that will be addressed during Conference Assembly.
Event location: Virtual via Zoom