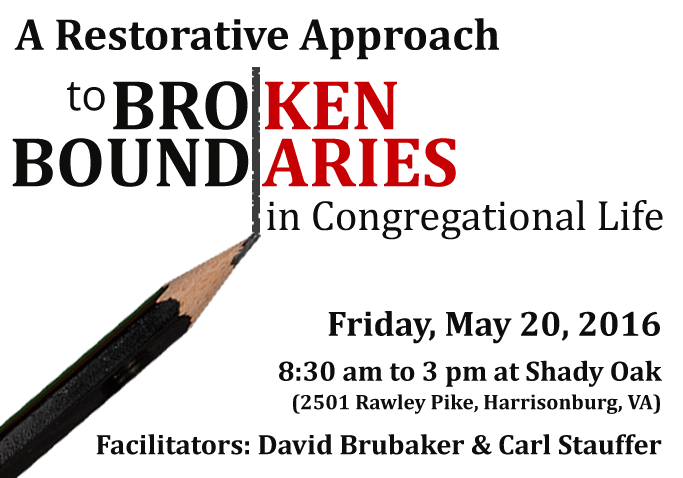 Credentialed leaders in Virginia Mennonite Conference are invited to the Spring 2016 Credentialed Leaders Consultation on "A Restorative Approach to Broken Boundaries in Congregational Life."
The vision for this consultation is to provide pastors with a biblical-theological rationale and ministry practices for working at broken boundaries in a restorative approach. The focus of this consultation is on members and friends of a congregation that have broken trust boundaries as a result of their behavior. Such boundaries might span a broad spectrum of ethical conduct, including financial misconduct, sexual abuse, and abuse of power.
We hope that the consultation will provide insight into work with ex-prisoners and other moral offenses that have not reached the level of criminal behavior, but nonetheless offend the faith community. The consultation will start from the premise that when an offense occurs in the context of a local congregation, there are particular needs of the victim, the offender, and the community that all need attention. Invited resource persons will address each of these three levels.
Resource persons for this consultation will include:
Lonnie Yoder, M.Div., Ph.D. (bringing a Biblical/theological perspective)
Melody Pannell, M.Div., MSW (addressing needs of victims)
Greg Winship (CJP student who has worked with offenders and ex-offenders)
Carl Stauffer, MA, Ph.D. (regarding how congregations can respond to the needs of both victims and offenders)
Participant conversations in response to input will be facilitated by David Brubaker and Carl Stauffer.
Registration for this event is now closed.