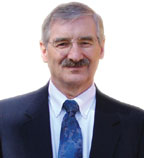 July 11, 2012
by VMC Staff
I have great blood! My blood is type O Negative (universal donor), and CMV Negative (it does not contain cytomegalovirus.) The attendants at the blood donor room tell me my blood can be pulled off the shelf and used immediately for trauma patients, and it can be used in young children.
I was quite pleased with myself when they first explained all of this to me. Then I considered more deeply, and said, "What do you have to do with your blood type? It is completely beyond your control. It is pure gift." Of course, that led to thoughts of so very many things for which I can take no credit: intelligence, gender, parents, teachers, preachers, time and location in human history. Life itself is gift.
So, rather than living pridefully with all of these things, I have determined to live gratefully. I hope to be "formed by gratitude."
This is the exercise to which we invite all who will participate in VMC Assembly at Chesapeake later this month. Think through how you have been formed—what has shaped your faith to this point? Parents, teachers, youth leaders, pastors, friends, spouse, traumatic events, spiritual disciplines…How have you been shaped by your encounter with the Bible? And, of course, it is the God of the Bible toward whom it points who is the object of our faith. How will you let yourself be "formed by the risen Christ?"
Another reality in my consciousness is the death of my brother-in-law, Paul Gingerich, this past March. Coping with my own grief journey has been helped by remembering Paul's gratitude for his own life. While the three-year journey with lung cancer had its challenges, and Paul wasn't really looking forward to death, he maintained that the life he was given was indeed gift. His wife, Joyce (Ruth Ann's sister), tells us that even as a boy, he would be singing his gratitude for life while he was mowing the lawn!
I share here a song he wrote in preparation for a congregational retreat in the 1970s:
WE ARE YOUR CHILDREN
Paul E. Gingerich

You have given life abundantly,
And you cleanse our every sin.
As we share your love along the way,
Holy Spirit please shine in.

CHORUS
We are your children Lord,
And our hearts are filled with thankfulness.
We give our lives to you,
As a token of our love.

May we find our place in You, oh Lord,
Always willing to be used.
Do a work of grace in each of us,
Set us free to share the news.

For Your Spirit gives the gifts to us,
For our growth in unity.
May our fellowship be sweet, oh Lord
As we give ourselves to Thee.
[soundcloud url="http://api.soundcloud.com/tracks/52622189?secret_token=s-NypRP" params="auto_play=false&show_artwork=true&color=009A4E" width="100%" height="166″ iframe="true" /]