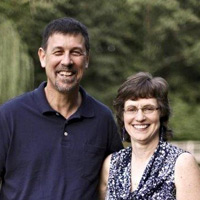 VMC introduces Clyde G. Kratz as Executive Conference Minister
June 26, 2013
by VMC Staff
On June 26, VMC's Conference Council announced its selection of Clyde G. Kratz as the new Executive Conference Minister. On September 1, Clyde will succeed Owen Burkholder, who has nurtured the conference faithfully for 18 years.
This new role incorporates executive responsibilities that were previously part of the Conference Coordinator position, which Sarah Bixler vacates in late August. One of the initial tasks Conference Council will give the Executive Conference Minister is to lead a conference visioning and strategic planning process.
Clyde is an experienced pastor and gifted administrator with a strong commitment to the Mennonite church. He says, "I could not envision myself separate from the work of the church." He is excited by the opportunity to be a leadership resource for "congregations engaging in being the body of Christ that is transforming people and communities."
Clyde's call to pastoral ministry began during a high school missions experience in New York City. In response, Clyde served in ministry at Franconia (Pa.) Mennonite Church. Franconia sent Clyde and his young family to Harrisonburg, Va., where he earned a degree in Biblical studies and theology from Eastern Mennonite University and a Master of Divinity from Eastern Mennonite Seminary.
During this time, Clyde also served as lead pastor of Weavers Mennonite Church. Clyde spent the next 24 years in full-time pastoral ministry as lead pastor of New Holland Mennonite Church (Pa.), and most recently Zion Mennonite Church in Broadway, Va. He has served as an overseer in the Northern District since 2006, including the past six years as vice chair of the Faith and Life Commission. He has also led several congregations in mediation. Clyde's training includes a Master of Theology and Doctor of Ministry from Princeton Theological Seminary.
Clyde and his wife, Eunice Kolb Kratz, live in Broadway, Va. Their three adult children, Jonathan Kratz, Jennifer Kratz, and Rebekah Brubaker, also live in that area. Clyde enjoys biking, traveling abroad, and woodworking.
As Executive Conference Minister, Clyde will serve as the primary staff person for Conference Council and the Faith and Life Commission, and will work with the Congregational Life Commission and Finance Committee.
Clyde's goals are "to meet with each overseer to learn about their missional leadership approach to oversight ministry, each district to learn about their vision for being a missional district, and each pastor or pastoral leadership team to learn about the missional impulses that they are seeking to foster within their congregation. The relationships developed and the insights gained will provide clarity and direction for my role in Virginia Mennonite Conference."
Current Conference Minister Owen Burkholder has worked with Clyde as Northern District overseer and in congregational consulting. Owen affirms, "Clyde's calling is to be the best minister he can be. Ruth Ann and I have been deeply touched by the care for us demonstrated by Clyde and Eunice. We are grateful for their willingness to pick up this particular leadership mantle."
Join VMC in welcoming and praying for Clyde as he assumes the role of Executive Conference Minister.