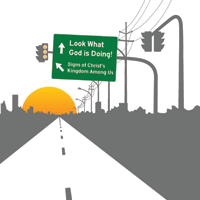 VMC Assembly to explore Holistic Christian Witness
June 6, 2013
by VMC Staff
What is God doing within each of us, among our churches and around the world?
This summer's Conference Assembly will engage the third priority of Mennonite Church USA's Purposeful Plan, "Holistic Christian Witness." Together we will explore Look What God is Doing! Signs of Christ's Kingdom Among Us.
---
Has your congregation created its Assembly poster yet? The poster at left is an example of how VMC is "pointing to Christ's kingdom."
Design: Jon Trotter Photo: Sarah Bixler
---
Worship speakers Loren Horst and Nelson Okanya, along with Bible study leaders Carmen Schrock-Hurst and Phil Kniss, have extensive personal experience with holistic Christian witness. Their experiences include international service with Mennonite mission agencies, pastoring in diverse urban settings, and missional church initiatives. Speakers for the Mennonite Women's and Men's Breakfasts, Grace Prasetyo and Chris Riddle, will travel across continents to share their current mission experiences.
Each congregation is asked to bring a poster, in the shape of a road sign, that depicts how it is pointing to Christ's kingdom. These will be posted throughout the meeting facility so attendees can browse the visual representations of God at work throughout VMC.
Delegate sessions will feature stories of how congregations, VMC, and Mennonite Church USA are pointing to Christ's kingdom. Delegates will learn about the recommendations from the Task Force for a Financially Sustainable VMC, and through table discussion reflect on what God is doing among us and offer input for the conference. Workshops have been chosen to reflect this theme as well.
But Assembly is not only for delegates. All are welcome to register and participate in the entire weekend's activities, and those not registered are invited to join in Thursday and Friday evening worship and events immediately following.
For evening entertainment and continuing fellowship, the Walking Roots Band will perform Thursday following worship while listeners enjoy free homemade ice cream. Virginia Mennonite Missions will host its popular Taste of Missions on Friday night.
This year, children's programming is significantly enhanced. Nursery and preschool care are provided during worship, delegate sessions and Bible studies. Preschoolers will enjoy a variety of activities, including visits to a children's museum and playground. Children having completed grades K-6 will be enriched with the Finding Treasure art camp taught by Eastern Mennonite School art instructor Barbara Gautcher. The weekend fee for children's programming is only $10 per child with a parent/guardian who is registered Assembly participant. Non-participants may register their children for the art camp for $40 per child. Children's registration is required, except for evening worship childcare, which is offered free of charge to infants through preschoolers.
Don't miss this memorable gathering of the body of Christ within our conference! Come to share your stories of holistic Christian witness and be inspired by what God is doing among us. Register by July 8.
.