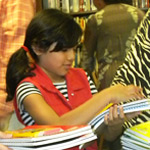 Park View's blitz packs more than 1,500 kits
October 4, 2013
by VMC Staff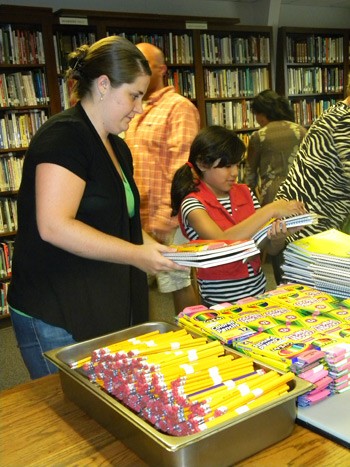 Peyton Erb (left) works in the assembly line putting MCC school kits together.
A lot of congregations put school kits together for distribution by Mennonite Central Committee (MCC). But how many produce more than 1,500?
That was a recent experience on Sunday, August 18, when nearly a hundred assembly-line volunteers packed a total of 1,562 kits at the Park View Mennonite Church (PVMC), Harrisonburg.
Along with Park View families, the event became an international gathering including adults and children from the Islamic Association of the Shenandoah Valley, from the Center for Interfaith Engagement at Eastern Mennonite University, and from Hilos en Común (Common Threads).
The latter group gathers Hispanic women from the Harrisonburg community who meet weekly to work with fabrics and share life. On blitz day, they displayed their stories through individual wall hangings mounted in the fellowship room.
The church foyer was transformed into a production room for adults and the library for children. The shared task was filling colorful drawstring bags with classroom tools for students in any of 15 designated countries where children cannot afford the basics for school. Kit bags were constructed from donated fabrics by members of Mennonite Women. Special offerings in June garnered funds for quantity purchases.
The Blitz began with a litany led by Pastor Barbara Moyer Lehman, along with Naveera Rashid, representative of the Islamic Association, and Sylvia Whitney Beitzel, from Blue Ridge Area Health Education Program.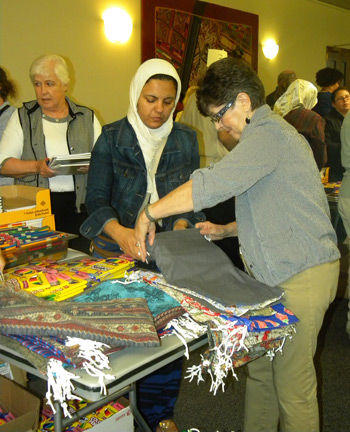 Cindy Byler, who with her husband, Daryl, recently located in Harrisonburg after six years as MCC country representatives for Iran, Iraq, Jordan and Palestine, spoke for children who will be receiving the kits.
Dr. Amir A. Krami, visiting Muslim Scholar at the EMU Center for Interfaith Engagement, offered a prayer of dedication for the day's project. With work completed soon after 4 p.m., Park View's Community Life Commission served ice cream and peaches.
The school kit blitz idea emerged from a PVMC small group in 2008, believing that with more visibility the number of school kits donated by Park View could be significantly increased. That year, the total number of kits reached 1,001. This year's goal was 1,500. Since school kits are the most requested MCC item from many countries, Park View members pray that their experience may encourage other congregations to brighten more children's days in school by filling a few more bags.
.
The blitz was a time of fellowship between Park View Mennonites and members of the Islamic Center of Shenandoah Valley.
Photos courtesy of authors