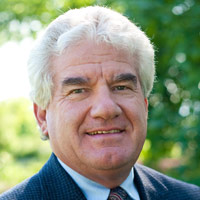 Nominee for Moderator of Virginia Mennonite Conference
November 6, 2013
by VMC Staff
Elroy Miller of Harrisonburg, Virginia, was enthusiastically approved as the nominee for moderator of Virginia Mennonite Conference by Conference Council on Friday, October 18. The Gifts Discernment Committee, which has the responsibility to select the nominee, will make the recommendation to delegates for their vote at the Winter Delegate Assembly held on February 1 at Lindale Mennonite Church, Linville, Va.
Elroy is no stranger to the work of Virginia Mennonite Conference. He has served as chair of the Faith and Life Commission from 2000-2006. In this capacity, he also was a member of the Conference Council. He and his wife Linda are members and attend Harrisonburg Mennonite Church, where his leadership and relational skills have been utilized.
Professionally, Elroy is an associate professor in the Applied Social Sciences Department of Eastern Mennonite University. He received a Bachelor of Science degree from Eastern Mennonite College (1975) and a Masters of Social Work from Southern Mississippi (1977). He has practiced clinical social work in family service/mental health agencies and taught at Malone College and Eastern Mennonite University. In academic year 2012-2013, he received a Quality of Service Award from Eastern Mennonite University. He maintains a limited practice with couples and with perpetrators of domestic violence.
While Elroy enjoys golfing and motorcycling, he also serves in not-for-profit organizations in the Harrisonburg area such as Pleasant View, Inc. He has also served in the public sector, providing his leadership to community agencies such as Harrisonburg Redevelopment and Housing Authority and the City of Harrisonburg and Rockingham County 10 Year Plan to End Homelessness Committee. Each of these aspects of his involvement reflect his personal statement about his life goal "to walk by faith and to strive for the good in our families, students, church, community and beyond."