Making disciples as we go!
September 9, 2014
by VMC Staff
Hundreds gathered for worship, delegate sessions and workshops to engage a fundamental call of Jesus: Therefore go and make disciples of all nations. This theme also guided each Bible study, testimony, worship message and delegate table conversation over the two-day Assembly, July 24-26, at Trinity Presbyterian Church in Charlottesville, Va.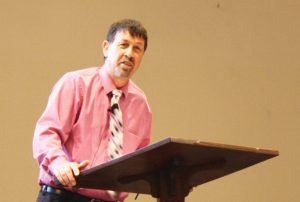 Clyde G. Kratz, Executive Conference Minister, brought the message Thursday evening, in which he outlined some of the ways the people of Virginia Mennonite Conference have been instrumental in bringing people to faith and discipling them.
"To be a disciple is to provide hope to those without hope. That hope comes from having a unique relationship with God and offering that possibility to another person," Kratz said. Faith development and discipleship should start in the home. "Making disciples in our families is an important opportunity. If we are unable to articulate and express our faith in this most intimate setting in our life, how will we share the message of hope that carries both truth and grace in equal measure to the stranger, emotionally unstable, the outcast, the wealthy, the powerful, and the highly educated?"
Aaron Kauffman, President of Virginia Mennonite Missions, gave the Friday evening message. Emphasizing both the commandment to go and make disciples and the method by which it should be done, Kauffman said, "It is because of who Jesus is—Immanuel, God with us—that we can dare to make disciples, because it is the rightful Lord of heaven and earth who commands it. And we seek to do so by following His courageous, peaceable, grace-filled footsteps. And we never do it alone. Jesus promises to be with us—always—whenever we make disciples the way He did."
Along with worship, the work of the Assembly delegates was a main factor of the gathering. The tone was positive throughout, though delegates expressed regret around the release of three congregations that requested withdrawal of their membership from the Conference.
Delegates discuss and discern around tables.
Participants peruse a display area for Conference related and endorsed ministries.
Ervin Stutzman led a workshop on "Communal Discernment in the Face of Strong Disagreement."
Shirley Yoder Brubaker completed her final Conference Assembly as Moderator of Virginia Mennonite Conference.
"As moderator, I appreciated the thoughtfulness with which the delegates approached the difficult decision to accept the request of three congregations to terminate their relationship with VMC. One of the congregations had been a member for 101 years, another 94 years, so there was much to lament. I am grateful for the stability our conference has in a denominational time of instability." The meetings were punctuated by prayer, singing, and fellowship over meals that contributed to a collaborative atmosphere.
Helpful stories from the past illuminated and paralleled some of the current issues in the church, as Elwood Yoder highlighted several examples of key leaders who navigated large issues of their days.
Testimonies by church leaders and mission workers gave examples of how disciples are being made in their contexts by incarnational ministries and building bridges of trust. Workshops engaged questions of how the church can promote discipleship among lesser-reached demographics and amidst strong disagreements.
Phil Kniss makes a comment during an open sharing time.
Pastoral and missions workers were commissioned for their assignments on Friday evening. All photos by Jon Trotter