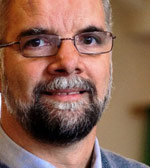 October 20, 2015
by VMC Staff
The work we had to do weighed heavily on those of us around Table 80 at Mennonite Church USA Convention in Kansas City.
We were carefully prepared for our work of "spiritual discernment," and were reminded often throughout the delegate assembly to work in a spirit of prayerful openness to each other and to the Holy Spirit. God met us there at Table 80.
We had deep differences between us, but the Spirit enabled us to listen and learn from each other as we honestly shared our hearts and our convictions. In the end, we did not come to agreement. But we did grow in our mutual understanding.
In between the hard conversations, we did other things together. We joined our voices in song. We prayed for each other.
We heard inspiring stories of the church engaged in God's mission.
There was also pain, anxiety, and sometimes chaos in our gathered deliberations (especially when the entire delegate body tried to work collectively with one moderator doing her best to lead 800 delegates toward points of decision on contested issues).
Decisions did not always unfold in a neat and orderly manner. No doubt some things would be done differently, if given another chance.
But even in the chaos of the moment, I saw God present and at work. Prayer companions stayed at the perimeter of the hall throughout, praying for us all. They visibly attended to what was happening, and offered it to God in prayer.
At some of the more tense moments, I saw their hands raised in fervent prayer. And when some people were so pained by the proceedings that they had to walk away from the tables, I saw them being met by these praying companions and holding impromptu prayer circles at the edges of the hall.
I'm grateful to be part of a church that expects God to be present and at work, even in chaos, even when we fumble and don't get everything right the first time (or the second, or third times). May we keep opening ourselves to the God of abundant grace.