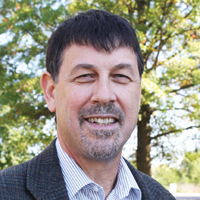 Kratz updates Conference Council on MC USA issues and conversations
September 8, 2018
by Jon Trotter
Executive Conference Minister Clyde G. Kratz updated Conference Council members on his recent activities at their May 26 meeting. He attended a meeting with other Conference Ministers from across Mennonite Church USA to talk about "how we are going to function in the future and what are some of our basic assumptions."
"In this context, we were clear as executive conference ministers, that Mennonite Church USA should function as a 'federation of conferences.' Each conference will apply the core documents of the denomination in their own settings. Virginia Conference can choose to apply them differently than, say, Central District Conference," Kratz noted.
He said that part of the challenge stems from an assumption that the foundation of Mennonite Church USA was on a federalist model, where everyone would be doing the same thing. Now we are articulating a federation model, which gives us the freedom to ask how we want to apply our core documents within our own constituency.
Kratz provided Conference Council with bios of new MC USA Executive Board members. The new executive director, Glen Guyton, was invited to bring the message on Friday evening at Virginia Mennonite Conference Assembly in July, and to give a presentation from Mennonite Church USA with a Q&A on Saturday. Michael Danner is a new member of the Executive Board and will relate to Clyde Kratz and other conference leaders as Associate Executive Director for Church Vitality and Engagement.
Kratz shared that a Mennonite congregation currently in Allegheny Conference is conversing with him about possibly joining Virginia Mennonite Conference. These conversations are continuing into the summer and fall.
Kratz gave an overview of some of the events during Conference Assembly in July. A new idea this year, as a way to build relationships among the delegates, was a team-building exercise. It is hoped that it will help delegates get to know one another before they sit down and talk together.
Kratz identified three themes that guide his work as a framework for most of his ministry activity: making disciples, addressing difficult issues, and organizational revitalization. Decisions tend to be prioritized on a year-to year framework, with very limited strategic thinking about three-year or five-year plans.
"Leadership often responds to the urgent and necessary. As Conference Council transitions to more of a governing body, thinking strategically will become an essential part of our work on behalf of the Conference," Kratz noted.
Part of Kratz' role is securing the financial health of VMC. In fiscal year 2018-2019, he will be working with Everence to develop a financial plan for some aspects of Virginia Mennonite Conference. This Lily-funded project begins with a weeklong seminar at Princeton Theological Seminary, with an emphasis on generating revenue.
Kratz' goals for VMC include: increasing annual congregational giving to Conference, developing a donor strategy for giving to Conference, and increasing endowment funds.