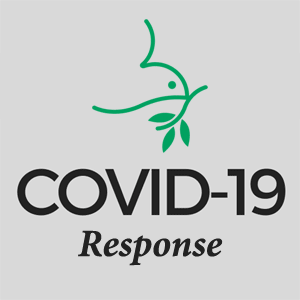 Conference responds to the coronavirus
March 26, 2020
by Clyde G. Kratz
Executive Conference Minister, Virginia Mennonite Conference
This letter and list of resources was sent to Virginia Mennonite Conference leaders on March 19, 2020.

Dear Virginia Mennonite Conference Leaders,
Hope springs forth! Rosy pink blossoms of the redbud are blooming, a dazzling yellow on the forsythia, and the soft pink of the apple blossoms display the hopeful magnificence of spring. But this passing beauty is seen as we move anxiously and rapidly to sustain our own and our family's health, weathering the changing landscape of economic realities, and the heaviness of uncertainty.
As we begin Spring 2020, we are transfixed by the coronavirus pandemic which is stopping the world in its wake. Yet, we are not without hope.
As followers of Jesus, we recognize this explanation of faith from the writer of Hebrews: "Faith is confidence in what we hope for and assurance about what we do not see." Another definition from many years ago that I used: Faith is stepping into the future without advantage. Faith contributes to realistic hope, which seems like an oxymoron. Hope is the ability to imagine what can be envisioned while waiting to experience it. The alternatives to hope are exaggerated claims to overcome our anxiety, or diving into the spiral journey of fear that paralyses our ability to move, act, or care.
At this point in time, I am encouraging leaders to be robust followers of Jesus. I acknowledge that as a people of God, we do not live by fear in this time of the unfolding impacts of a pandemic. As I listen to the unfolding drama on the news, I am struck by the realization that there is no "play book" on how to navigate this crisis in culture.
But one thing I do – I trust in God. I seek to provide understanding and hope to those impacted by this potentially catastrophic event. It remains my desire to be a voice of understanding and hope, rather than one that articulates conspiracy theories about why this pandemic is occurring. Along with the writer of the book of Proverbs, I concur – "Trust in the Lord with all your heart, and lean not on your own understanding. In all our ways acknowledge God and God shall direct our paths." (Proverbs 3:5-6).
 
Updates of Information from Virginia Mennonite Conference.
The Virginia Mennonite Conference office is closed to visitors. At the same time, I am coming to the office each weekday to address the challenges that emerge through phone calls, emails, and correspondences. I have engaged in Zoom calls with District Ministers (March 18) to learn about their experiences in supporting pastors. I am participating in a Zoom call (March 19) with Mennonite Church USA leaders to learn about the broader experiences within our denomination. As a member of the Board of Trustees at Eastern Mennonite University, I will be on a Zoom call (March 20) with President Susan Huxman to learn about EMU's responses to this pandemic.
In the conversation with the District Ministers, I learned some of the ways pastors and congregational leaders are adapting to closed meetinghouses:
Pastors are using online platforms to live stream encouragement, Bible studies, and mediations for their participants. Online platforms can be found in the resources below
Online giving is a good way to sustain the not-for-profit ministry that pastors are leading
Phone networking with all congregational members as a weekly check in
Leadership meetings and small group meetings on Zoom, Google Hangouts, or Facetime
Developing benevolence ministries or mutual aid for families and members hit hardest by the loss of employment
Creative pastoral care via phone, email, online platforms, etc.
Innovation is necessary in a time of crisis

Navigating the Future.
In your roles as a pastor and leader who welcome the opportunity to care for people, be safe in your ministry towards your members, neighbors and friends. Equally important, and perhaps often overlooked, make sure you are safe – in terms of taking precautions in your own life and ministry in order to serve others well. During this time you hold life concerns for your family, congregants and friends, you may experience compassion fatigue in the near future. Take time to nurture your spiritual journey in order to be a source of care and hope to others.
Be assured of my desire to support your ministry. I am available by phone at (540) 908-0116 or email [email protected] for counsel and encouragement.
Blessings in your service,
Clyde G. Kratz
Executive Conference Minister

Resources to stay connected
As churches and pastors face challenges through the coronavirus pandemic, Virginia Mennonite Conference is providing a list of resources that may help your congregation stay connected and supported.

How to Do Church Remotely
A free, user-friendly online platform for churches to engage digitally is Church Online Platform: With a robust controls and a sleek user interface, the Church Online Platform packs the most powerful church online controls into one free tool. These can be used to stream and broadcast Sunday worship services and more.

Meet via Zoom
Zoom is a popular video call platform that enables easy communication remotely. They have a helpful webpage about supporting users through the coronavirus pandemic. There is a free version of the platform that allows indefinite one-on-one video meetings, and multiple-person meetings up to 40 minutes. Zoom Pro, Business, and Enterprise are paid subscription versions that allow full access.
Watch a short video about Zoom's capabilities.
Wanting to get started with Zoom? Learn how here.

Online Congregational Giving
Tithe.ly is a giving platform built for churches, with a free version (there are per transaction costs of 2.9% + 0.30 | ACH/Bank: 1% + 30¢ | AMEX: 3.5% + 30¢) and paid versions depending on your needs.
PayPal: a market leader in online payments, with donate buttons churches can set up on their webpages. PayPal offers discounted transaction rates for confirmed 501(c)(3) charities for most products; 2.2% + $0.30 per transaction with no monthly fees.