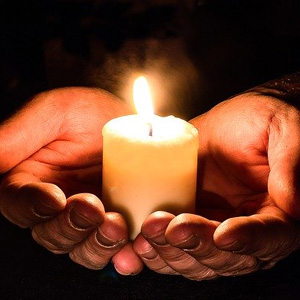 Grieving alone: a new challenge for families, congregations, and our faith community
April 15, 2020
by Clyde G. Kratz
Executive Conference Minister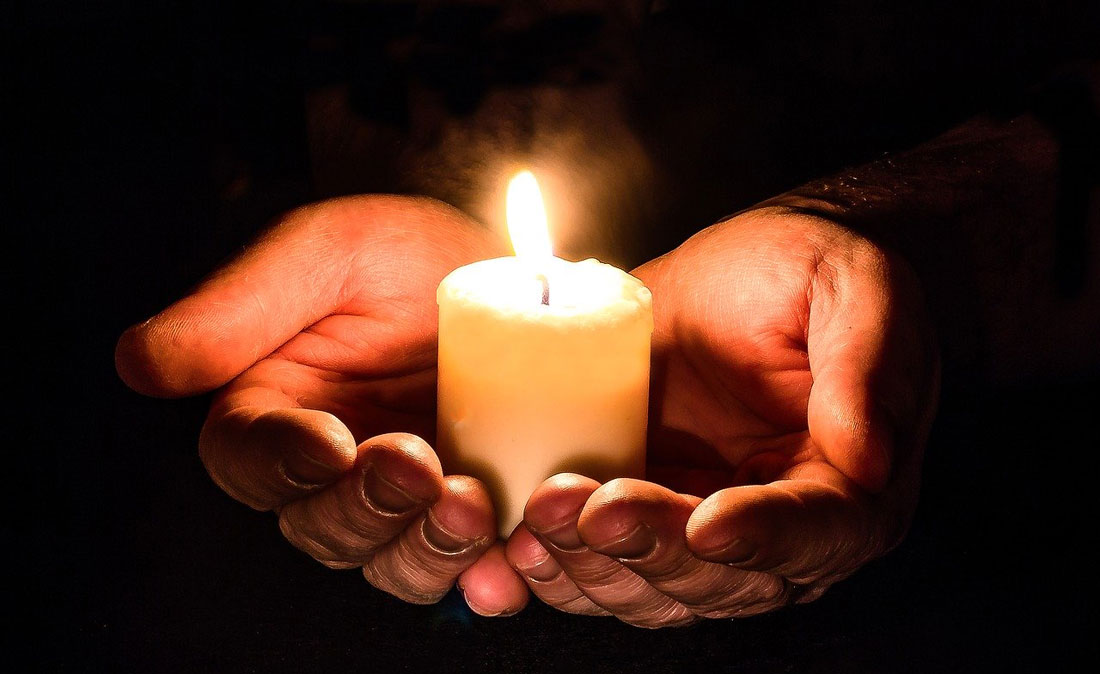 Pastors and Leaders Update
On April 5, I had the privilege of providing a meditation for Asheville Mennonite Church via Zoom. Followers of Jesus were commemorating the hope they held as the processional headed for Jerusalem. It was a time of hopeful acknowledgement that the future will be different. As it turned out in biblical literature, the future was very different and not as anticipated by Jesus' followers. With the resurrection of Jesus, it was actually better than they imagined. I continue to remind myself in these days of uncertainty of my own commitment as a follower of Jesus:
What then are we to say about these things? If God is for us, who is against us? He who did not withhold his own Son, but gave him up for all of us, will he not with him also give us everything else? Who will bring any charge against God's elect? It is God who justifies. Who is to condemn? It is Christ Jesus, who died, yes, who was raised, who is at the right hand of God, who indeed intercedes for us. Who will separate us from the love of Christ? Will hardship, or distress, or persecution, or famine, or nakedness, or peril, or sword? As it is written, "For your sake we are being killed all day long; we are accounted as sheep to be slaughtered." No, in all these things we are more than conquerors through him who loved us. For I am convinced that neither death, nor life, nor angels, nor rulers, nor things present, nor things to come, nor powers, nor height, nor depth, nor anything else in all creation, will be able to separate us from the love of God in Christ Jesus our Lord. – Romans 8:31-39
Many years ago, I passed a cemetery while traveling from New Holland, Pa., to Princeton, N.J., traveling on Route 1 in Langhorne, Pa. On this overcast and gray day, there stood a person standing by an open grave with a priest. No one else was in sight. I remember reflecting that this was an image of being alone—no family, no friends, and no neighbors present to commemorate a person's life. Yes, the priest was present and therefore the person was not alone. However, every funeral I had attended involved large groups of people, shaking hands, hugging, offering words of encouragement. Today, families are experiencing the loneness of commemorating their loved ones death as we physically distance ourselves from each other for safety reasons.
It has been a difficult time with the death of three leaders in the Harrisonburg area: Nate Yoder, retired professor at Eastern Mennonite Seminary, Steve Leaman, Director of Advancement at VMMissions, and Lloyd Weaver, church leader who served as a pastor, a district minister, and president of VMMissions. Grieving alone is a new challenge for families, congregations, and our faith community.
Grieving a loss does not just occur when there is a loss of life. Today we experience losses in missing rituals of transition like the celebration of the birth of a child, high school and college graduations, retirement celebrations, and trips—planned but cancelled. The loss we experience is magnified by the multiple levels of loss that all persons are experiencing in this necessary time of physical distancing.
Even as we anticipate coming back together again, we are at a loss to know when and how we all have changed. The world will be different and there will be more losses. I challenge each of us to identity what we have lost in this time of separation from each other, and offer our laments to God who cares and understands our anguish, pain, and loss.
Updates from Virginia Mennonite Conference
A number committees are continuing to meet as planned although through Zoom meetings.
The Strategic Planning Task Force – April 10, 2020
The Vision Team for Summer Delegate Assembly – April 14, 2020
The Congregational Life Commission – April 16, 2020
Faith and Life Commission – April 17, 2020
A request has come in to be financial supported through the COVID-19 Benevolence Fund and I am anticipating receiving another request next week.
Summary
As a result of this pandemic, we will be different. We are living in a crisis of community, because we have limited contact with each other. Normally, we can shake hands or hug one another in times of stress and strain. As we have experienced Good Friday and Easter, may we carry with us the two competing emotions of loss and hope as we navigate our future, trusting in God as followers of Jesus.
Blessings in your service,
Clyde G. Kratz
Executive Conference Minister

Updates from Conference Endorsed Ministries

Eastern Mennonite School
Blessings in your leadership during these most unusual days of virtual church and supporting one another when it's difficult to be together. As you communicate electronically with your congregation, please consider sharing the following announcement. You are also welcome to share this with people in other circles as well.
Eastern Mennonite School beginning the search process for the following position(s). Interest can be expressed by emailing [email protected] or calling 540-236-6012.
Middle School English Teacher (67% Time w/ Benefits): Instruction includes teaching all 7th and 8th grade students English. The teacher strengthens the mission of Eastern Mennonite School by creating an exciting environment whereby student reading, writing, and presentation skills are strengthened and honed in preparation for high school. This person is an integral member of our MS Team as a core instructor and important mentor in the spiritual formation of EMS students.
Drama Coordinator (20% – 33%): This person gives administrative leadership for EMS's drama productions which include a 4th/5th grade play, a middle school play, a high school play, and a musical each year. The school's drama philosophy includes performance selections that enhance the school's vision & mission; are age appropriate for students; and are viewed as positive learning opportunities for all participants, providing student involvement opportunities in set construction, make-up, costuming, sound & lighting, program displays, music production, acting, and post show clean-up and storage. Opportunity may exist for teaching drama-related classes.
Gratefully,
Paul

Roberta Webb Child Care Center
Melody M. Pannell, MSW, M.Div. MACE
Director of Development
Greetings RWCCC Community,
On behalf of the Roberta Webb Child Care Center Inc., we join our local, national and global community leaders, administrators, teachers and educators in sending out our positive thoughts for hope, healing and health to all of our families and children during this coronavirus outbreak.
We understand that in this current time of unprecedented health crisis, it is crucial to provide clear, concise and conscientious communication to help alleviate any confusion and uncertainty as we continue our mission "to serve ethnically diverse families by providing quality and affordable child care."
This RWCCC Public Statement on COVID-19 serves to keep our community and constituencies informed on our RWCCC COVID-19 Crisis Response Strategic Plan for the safety and wellbeing of the children and families that we serve throughout Harrisonburg/Rockingham County.
RWCCC COVID-19 Crisis Response Strategic Plan
Temporary Closing
The Roberta Webb Child Care Center issued a temporary two – week closure effective from Monday, March 16 – Monday, March 30. All parents and families were notified in a timely manner. Safety recommendations, referrals and community resources were offered to parents and families in an effort to provide helpful support as needed.
Under the leadership of Executive Director, Mrs. Angela Rouse, the center implemented a deep cleaning plan with staff members in order to properly disinfect classroom and administrative spaces. This two – week temporary closing enabled RWCCC to effectively prepare and make the necessary adjustments for our reopening. Our Board, Executive Director, Administrative Office and Classroom Staff worked diligently to ensure that all policies, best practices and state regulations were executed in an efficient manner.
Re – Opening Our Revised Program
The Roberta Webb Child Care Center reopened on Monday, March 30, 2020 with our new hours being from 7:00am – 4:30pm, Monday – Friday. Our nursery program remained closed due to coronavirus licensing restrictions. Our child care center is committed to operate in strict compliance under the COVID-19 regulations of the Virginia Department of Social Services , Virginia Department of Health and the Center for Disease Control.
Donations and Support
Since our establishment on November 14, 1994, we have provided a safe, nurturing and educational environment for the positive development of children. We are grateful for our many friends who have donated to the Roberta Webb Child Care Center throughout our 25 years of service. Now more than ever, we need your financial support to ensure that we can continue providing quality and affordable child care. We invite you to consider giving a special gift to support our efforts as we respond to meeting the needs of our children and families during this coronavirus health crisis. So many of our parents are dependent on having a safe place to care for their children.
We encourage you to participate in our upcoming opportunities to give to RWCCC through:
I. The #GreatCommunityGive rescheduled for June 24, 2020
a. https://donate.greatcommunitygive.org/organizations/roberta-webb-child-care-center
II. Our Virtual Panda Walk scheduled for May 30, 2020
a. https://www.facebook.com/events/2472497206298324/
III. You can also give online through our Click and Pledge website at https://connect.clickandpledge.com/Organization/50285/ or by mailing a check directly to our address.
IV. Please keep in contact with us through our new email at: [email protected]
Visit our new website: at www.robertawebbccc.org or our Facebook page
A Resource for Families
The Roberta Webb Child Care Center cares deeply about the critical health concerns, social disparities and holistic well – being of our children and families. We continue to offer the recommendations and resources as a way to contribute to the positive community outreach efforts throughout Harrisonburg, Virginia. The Roberta Webb Child Care Center is committed to providing a positive level of consistency, care and compassion for our children. We thank you in advance for your support in empowering us to continue this important work of educating society's future citizens, our beloved children.

Virginia Mennonite Retirement Community
April 8, 2020
VMRC Update
As COVID-19 pandemic enters a new month and reaches the Easter season, VMRC appreciates your prayers for our employees as we provide care for our residents. Specifically, pray for their energy, for physical protection and that of their families, and for our entire campus to be protected. Pray also that all of our infection control equipment and supply needs for caring for residents will continue to be met.
Day to day life looks a little different everywhere, and VMRC is no different. While social distancing and sheltering in place is the play of the day, we recognize the importance of connecting to family and friends as well as staying physically active.
The Wellness Center and Life Enrichment teams are recording regular resident and staff updates, doing devotionals and Bible studies and creating fun fitness classes that residents can follow along in their apartments through our internal TV channels. In Supportive Living, the Life Enrichment team helps residents stay in touch with their families by helping them write letters and through FaceTime, Skype or photo messaging. Independent Living residents have hallway hymn sings and daily phone or video chats with each other and their families to stay in touch.
One very tangible way to minister to our needs is through homemade cloth face masks. As the guidelines from the Centers for Disease Control & Prevention, and the Centers for Medicare & Medicaid Services has expanded for the wearing of face masks by health care employees and residents, our need for these items has increased. We are so grateful for the churches and individuals who are already responding to this need.
We can witness the many ways our community ensures the social, emotional, spiritual and physical well-being of residents remains a top priority.
Social distancing is key not only for VMRC residents and employees, but everyone!! In your celebration of Easter, please remember to adhere to the CDC's guidelines for your health and safety and for your loved ones.

Virginia Mennonite Missions
Update by Clyde G. Kratz
As many of you are aware, Steve Leaman, Director of Advancement, at VMMissions died suddenly. VMMissions staff grieves his loss. I am inviting you to keep Aaron Kauffman, President, and his staff in your prayers during this sudden turn of events that impacts their leadership team.

Pleasant View Inc. – Being a service provider during COVID19.