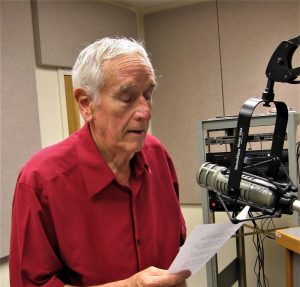 John Horst: A music man for all seasons
October 26, 2020
by Jim Bishop

Sadly, the live voice is now silent.
Happily, his recorded voice, and the music he promoted so earnestly, remains in his wake.
John L. Horst, Jr., of Park Village, Harrisonburg, died Sept. 16 at age 82 at the University of Virginia Hospital from aftereffects of a subdural hematoma suffered during a fall. He leaves behind his spouse of 48 years, Joan Graybill Horst, son Michael, daughter Grete and five grandchildren – and a rich educational and musical legacy.
Music has played a vital role in John's life from childhood. Born in Connellsville, Pa., and raised in nearby Scottdale, John sang in a high school male quartet that reached state-level competition.
He earned a degree in mathematics and music at then-EMC in 1960 and did graduate work in physics education at the University of Virginia and additional graduate work in music. He taught at Eastern Mennonite High School three years and then moved to the college, where he spent 37 years as an associate professor of physics and mathematics.
John was a vocalist and composer most of his life, writing works for piano, synthesizer and carillon as well as hymns and hymn arrangements.
---
---
One of John's most avid pursuits has been "Mostly Mennonite, Mostly Acapella," a radio program he developed in 2003 at WEMC, the university's non-commercial FM radio station that is now managed by sister public radio station WMRA.
The program title, suggested by former WEMC station manager Phil Easley, aptly describes this unique radio program. It features Mennonite and related Anabaptist groups' music while including selections from other choral traditions, particularly Lutheran, Anglican and Russian Orthodox. The emphasis is on hymns and anthems rather than extended choral works. John would occasionally throw in "some good instrumentals" for a change of pace.
John relished featuring local choral groups such as schools, the Shenandoah Valley Children's Choir, Sons of the Day, Shekinah, the Rockingham Male Chorus along with other frequently-played groups such as The Mountain Anthems of Salisbury, Pa., The Table Singers of Lancaster, Pa., the West Coast Mennonite Men's Chorus and others.
Horst welcomed recordings from music groups across the country as well as from listeners' private collections, and if the sound quality and music style fit the program, he'd use them.
Regular listeners grew accustomed to hearing selections from the "Mennonite Hour" radio broadcast that in its prime aired weekly on more than 100 radio stations throughout the United States and Canada. John sang bass in the program's male quartet for seven years in the late 50's and early 60's as well as in the Men's Chorus and Mixed Chorus.
Between 2001 and 2012, John lovingly produced nine digitally-remastered compact disc albums drawing from the more than 800 songs in the "Mennonite Hour" program archives and wrote liner notes for each one. These discs are still available for purchase from Dorothy Hartman ([email protected]).
"John Horst was a generous and kind radio host. He loved sharing new music from the Mennonite community and beyond while also keeping older recordings and music alive," noted WMRA/WEMC general manager Matt Bingay. "According to our audience survey data, 'Mostly Mennonite, Mostly Acapella' was one of the most popular programs on WEMC. It was the 'Car Talk' of the WEMC program lineup."
For EMU's Centennial year, 2017, John put together a CD album of "EMC/EMU's Greatest Choral and Orchestral Hits." The 26-track recording of "music from the past" featured acapella chapel singing, choral and instrumental groups and cantata excerpts.
He directed the M.T. Brackbill Planetarium in the Suter Science Center for many years, often composing music – usually synthesizer – to accompany the program narrative with the Spitz planetarium projector.
At Park View Mennonite Church, where he was a member for nearly 55 years, John sang in the choir. He sang with several community choirs over the years, including the Rockingham Male Chorus, the Shenandoah Valley Bach Festival chorus and most recently the Valley Collegium Musicum.
John also relished participating in the frequent "Harmonia Sacra" hymn sings held in the Valley, leading hymns and providing information on each selection. Harmonia Sacra is a shape-note tune book originally published in 1832 by Joseph Funk of Singers Glen.
John and I definitely shared a passion for seeking to preserve and promote music from the past – his the distinctive, four-part acapella singing tradition that appears to be an "endangered species" in the world of Mennonite melody, mine the roots of rock 'n' roll music of the 1950's. Somewhat ironically, we seemed to admire and encourage each other's efforts.
"John was a most remarkable man and one of the most forward-thinking persons I knew of, musically, and in so many other ways," said Carol Ann Weaver of Waterloo, Ont., a former EMU music faculty member. "He was there, musically, long before anyone else I knew in my own community, and he always stayed on that exciting, narrow path of search and discovery, so very vital for the continuation of our human species and for our living in harmony with the wider world around us."
WEMC, 91.7 FM (wemcradio.org) plans to continue airing "Mostly Mennonite, Mostly Acapella" at its regular program times, 8-9:30 a.m. Sundays with repeat broadcasts 8-9:30 p.m. Wednesdays through the end of December in John's memory.
How can we keep from singing along?
---
This article appeared in Bishop's Mantle in the Daily News-Record, Harrisonburg, Va.