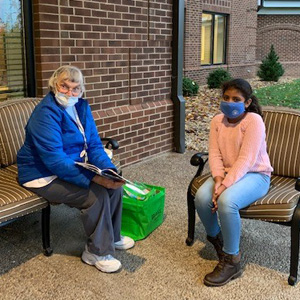 VMRC: Expanding Connections Amid a Pandemic
January 19, 2021
by Rebekah Harsh
Content Marketing Manager at Virginia Mennonite Retirement Community, Harrisonburg, Va.
---
Nine months into the COVID-19 pandemic, we at Virginia Mennonite Retirement Community (VMRC) are more accustomed to mask-wearing, temperature screenings and physical distancing than we were in the spring. The processes put in place to keep residents and staff healthy such as meal delivery and wellness center visits by appointment feel smooth and streamlined. Around campus, we can say with gratefulness that the last few months have been livelier than they were are the start of the pandemic as we've been able to reintroduce visits between residents and family members and hold small group events following appropriate health measures. Aside from safety protocols, helping people age well during these months of physical distancing is at the heart of what we do, and staff and residents have risen to the occasion in many ways.
Connecting through Technology
The onset of COVID-19 brought our typically full calendar of worship services, events and programs to a halt, virtually overnight. The Wellness and Community Based Services team came together to create a "Community of Hope" internal TV channel with the theme "Stay Connected. Stay Informed. Stay Well." What started as a way to communicate important campus information quickly came to include devotionals, worship services, exercise programs and brain games. In early summer, we introduced a VMRC Vimeo channel that is accessible to not just residents but the greater community as well. The ability to reach a wider audience with our programming has allowed us to expand connections even as we are in a pandemic. Long-time annual events like the Juried Art Exhibition and Shenandoah Valley Lyceum were re-imagined as digital events and shared via our VMRC video broadcast channel.
"We will continue to connect our residents and staff to the fine arts to enhance their overall well-being. Looking ahead to 2021, we plan to host a variety of visual art exhibits in our Gallery space for residents and staff to enjoy as well as in an online format for the community at large. There is also an opportunity for artists to continue to be motivated to create new artworks to be displayed and sold here at VMRC," said Arts and Education Program Manager Lolly Miller.
Connecting Spiritually
As the months have gone by, maintaining spiritual connection is on the minds of many. Residents Peg Engle and Mary Kratz were called to create a prayer guide as a response to the pandemic and other issues affecting our country. Working with VMRC's Pastoral Care team, they created Prayers for Healing and Peace in our Nation. The guide, shared with residents, staff and community members, focuses on Scripture passages and meditations to help focus our prayers on healing and peace. Of the guide, the group says, "Together, may we call on and recognize the presence and love of God at work in these challenging times."
Connecting the Generations
Pre-COVID, intergenerational connection through partnerships was an important aspect of VMRC's culture and even now, is still happening. GrandBigs, a program that pairs VMRC residents with local children, typically meets in person a couple of times per month. Since March, the GrandBigs and Littles have communicated mostly via phone but just recently one of the pairs was able to have an outdoor visit on our campus and what a joy it was to see! In another instance, a group of five residents have been meeting via Zoom with James Madison University Social Work students in a group methods class.
The focus of their program has been "Family" with residents sharing who and what has shaped their lives. "I have thoroughly enjoyed the class and hope it was beneficial for the students, too!" said resident participant Peg Neustadt.
Connecting Through Giving
The VMRC Foundation has shifted the way it connects with donors, relying on email, video and FaceTime. One of the foundation's annual events, Celebration of Lights, will be held virtually on December 3. The event benefits the Good Samaritan Fund through gifts made in honor or memory of a loved one. This fund supports residents who have outlived their resources and annually serves 28-35 residents in Complete Living Care. While this year's event will not take place in a full auditorium, it still allows those participating to come together for a dedicated time during the holidays to remember loved ones and celebrate the light and hope of the season.
Throughout this journey, there have been plenty of challenges, yes, but there has also been connection, ingenuity, compassion, and a "we can do this!" spirit. When we look ahead to a post-COVID world, these are the things we will remember and these are the things that will benefit us well into the future.
To view the Celebration of Lights event on December 3 or any of the videos mentioned in this article, visit VMRC's Vimeo page..