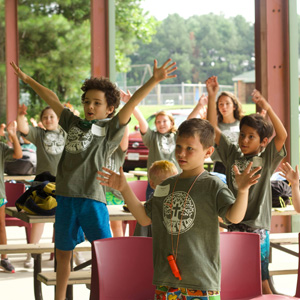 Amazed at God's Provision and Blessing
January 25, 2021
by Bob Briscoe
Executive Director of Williamsburg Christian Retreat Center, Toano, Virginia
Here at Williamsburg Christian Retreat Center, we have been continually amazed at the ways the Lord has continued to bless our organization throughout this unique year. We had a very successful summer camp season and have experienced a high level of donor support. In each department, our staff have learned how to adapt and continue operating with excellence in the midst of regulations and challenges.
Program Director Josh Brown says he is still surprised by just getting to have a summer of Kaleidoscope Camp. After months of carefully monitoring the executive orders and guidelines, he deemed it safe and feasible to host four weeks of day-camp only programs for ages 6-18. The challenges did not end with that decision being made, however, Josh then had to create and enforce policies for the summer. He said, "I was extremely nervous coming into it, but I was very surprised by how willing the staff was to sacrifice their desires for the sake of the camp ministry."
Josh explained that because the young summer staff was so dedicated to following the rules, "None of them got sick, no one got sick at all. We usually have at least a quarter of the staff get sick in some form or fashion at some point in the summer and everyone was completely healthy, so everyone was able to work pretty much the entire summer." This was a huge blessing and provision from God.
Though the number of campers was cut in half in comparison to a normal summer, God did not cut back on the impact he had on the campers' lives. Our counselors reported ten first-time commitments and eleven recommitments to Christ as well as many other testimonies of God's work in their cabins. Josh attributed this to the changes in peoples' lifestyle, "Although it was different, and it wasn't overnight, a lot of the campers had been at home for way more time than what they were used to because of COVID. Even though it was just a day camp event, the opportunity to get out of the house and be with people their own age led to more community."
Kaleidoscope Camp also saw a successful week of Family Camp, which was able to happen overnight as long as families operated within their own groups and were only lodged with one another. Josh was grateful that the families came with open minds about the changes and were just glad to spend time together. He commented, "The families came in with a mindset of intentionally seeking fellowship with one another and creating unity and not letting [COVID policies] be a divisive topic."
Our Maintenance Director Andrew Harcum says he is thankful that his department is one of the least affected. At the beginning of 2020 he had planned to hire a maintenance assistant, but budgetary changes put a pause on new hiring. Thankfully, Andrew has been able to rely even more than normal on our many faithful volunteers.
"Because of COVID, we're able to tackle bigger projects because the buildings aren't being occupied. We're painting all of Laurel Cottage and were able to redo the Village walking path around the cabins. One of the biggest things that has been helpful is the use of volunteers and being able to save money that way." Andrew expressed his gratitude to his volunteers and explained how their work causes the maintenance department to see a lot of success in this time, instead of having work slowed down by decreased budget and bookings.
---
---
Kitchen Manager Kai Schwegal joked that "COVID changed a lot for us in the kitchen–not much as far as washing your hands and wearing gloves because we already have to do that, but lots of other things." Some of the things that did change for food services was the challenge of wearing masks all day in a hot kitchen, increased sanitation measures, and delivering meals in boxes instead of guests eating in the dining room. Like Josh, Kai relied on her staff and was impressed by how they adapted to these changes.
She remarked that, "If we didn't trust in God and trust in each other then we wouldn't have been able to do what we did this summer." The kitchen successfully served summer camp through all five weeks and became a stronger team through the challenges. Now, Kai says, the things that were so strange and difficult at the beginning of the summer have become normal and the staff has a system down that makes the kitchen run smoothly. She attributes all this success to God and her staff's willingness to work as a team.
Though this has not been the year that any of our staff members expected, it has come with many lessons and opportunities to grow. As our directors reported, this year would not have been a success without continual reliance on God's grace and on our incredible staff and volunteers.
As we close out the year, we are prayerfully expectant of all God will do in the New Year [2021]. If you would like to support our coming year of ministry, please consider making a donation to our Annual Appeal fund, or joining our prayer team, by visiting our website.