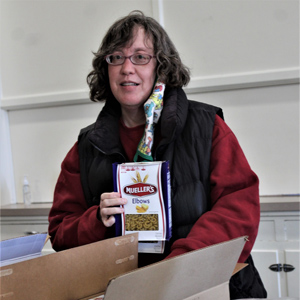 Volunteerism Fuels Patchwork Pantry Food Ministry
March 1, 2021
by Jim Bishop
Freelance writer based in Harrisonburg, Va.
Every Wednesday morning, you'll likely find Sam Moore at the same location doing a bevy of tasks – all out of love of service to others.
On this particular day (Feb. 24), Sam, along with Len Carroll and Daryl Peifer, were unloading and checking some 6,000 pounds of food from Blue Ridge Area Food Bank for distribution at Patchwork Pantry, the ecumenical food ministry based at Community Mennonite Church, 70 S. High St. in Harrisonburg.
The men work with fellow volunteers Duane Miller, Randy Reichenbach, Paul Heisey and Dan Beachy to get the essential goods to the pantry every week. They declare it a "call to serve," in keeping with the pantry's mission statement: "To provide a three-day supply of staple food to those in need in Harrisonburg and Rockingham County…We regard the gifts of food, money and time as a sacred trust to be administered for the most effective hunger relief possible."
Sam Moore, a retired purchasing manager at Wetsel Seed Company, has served on the Patchwork Pantry board of directors some 15 years and chairs the food committee of the board. In addition to helping with the Wednesday food delivery operation, he picks up bread and other perishable items from local supermarkets at reduced prices.
Jennifer Ulrich, Patchwork's program director, has been involved at the pantry since its inception in 1992. She took over the reins in 2016 when Sheri Hartzler and her husband Jay, the Community Mennonite couple who started the program, went to Romania in mission work, where they still live most of the year. Jennifer is a long-time technical services librarian at Eastern Mennonite University.
---
---
Despite many complications brought on by the pandemic, Jennifer noted that the pantry has been able to maintain regular operations 6:30-7:30 every Wednesday evening "through creative problem-solving." The program only shut down once in May 2020 for a COVID-related issue and for three weeks in December due to weather and the holidays.
"We have adjusted operations, as we do not have clients enter the church building but meet them outside in their vehicles for 'intake,' Jennifer said. "We used to let clients choose some of their food options but we're not able to do that at this time. We do continue to record each person's visit through a software program."
To help expedite procedural changes, Patchwork volunteers now pack some food items earlier in the day. Additional volunteers are often needed to help this effort.
"Community support over the past year has been amazing," Jennifer stated, citing as examples: Kids Clubs members at the church handed out books to clients; Dwight Kauffman, a woodworker and member at Community Mennonite, made toys and games that were given away for several months; and a women's group knit winter scarves, while other community persons contributed cloth masks to give to clients.
The rising number of Patchwork clients speaks to the continuing hunger insecurity in the local community. For the last quarter of 2020, even with being closed several weeks in December, 597 households were served. By way of comparison, 342 households received food assistance in the last quarter of 2019. In Jan.-Feb. 2020, 261 households received food and related items while 400 households were served in Jan.-Feb. 2021.
As client numbers continue on the upswing, the pantry's greatest ongoing needs, according to Jennifer, are food donations, volunteers and financial contributions.
"Monetary gifts are especially helpful, as we can use them to purchase certain items that we can't get from the Food Bank or to buy personal hygiene items," she noted. The most-needed commodities include rice, canned green vegetables and canned fruit, cereals and canned tuna and chicken.
---
---
Jan Jenner is chair of the Patchwork Pantry board of directors that includes 13 members from 7 congregations representing 5 denominations. The biggest adjustment for the board during the pandemic has been "going to Zoom video conferences rather than in-person meetings," Jan noted.
"We, along with other organizations providing food to struggling community members, have received a huge benefit from the Blue Ridge Area Food Bank, as they are supplying both USDA and non-USDA food at no cost during the pandemic," Jan said. "This has saved us thousands of dollars and allows us to purchase additional items at area supermarkets to expand the kind of food items we're able to distribute each week.
"While food drives have understandably decreased – with no thanks to the uncertainties brought on by COVID-19 – that has been more than made up by the generous financial contributions and other support from community members, churches and other organizations," Jan added.
That's saying a mouthful.
---
This article was published as Bishop's Mantle in the Daily News-Record on February 27, 2021.