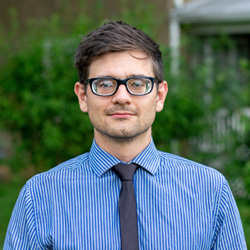 December 9, 2022
by Caleb Schrock-Hurst
Church Relations and Racial Justice Leader
Greetings brothers and sisters,
My name is Caleb Schrock-Hurst and I work for VMC as the Church Relations and Racial Justice Leader – a title I find a little bit clunky. 'Leader' is an alternative to 'minister' since I have yet to finish seminary; however, assuming I don't fail my Greek exam, I will finish Seminary next week.
Part of the reason I find the title 'leader' clunky in our church setting is that we should always remember we have only one leader – Jesus the carpenter's son from Nazareth, whom we know and worship as the Savior, the Messiah, the Christ. As Hebrews tells us, Jesus "is the reflection of God's glory and the exact imprint of God's very being" – he is the leader and minister we must look to before any other. In all our work, I pray we point towards Jesus.
Racial Justice: In the season of advent I am reminded of John the Baptist's call to 'prepare the way of the Lord.' Often, people from majority-white congregations ask me what they can do as a church to attract members of color. One thing we can and should do is proactively 'prepare the way.' We can ask if there are practices, images, or traditions in our congregation that signal our openness to people different from us – or signal we aren't open to them. We can ask, as Bishop Francisco asked in an earlier issue of iCLT news, if you woke up tomorrow as a person of color would you feel welcome at the church you attend? If not, are you willing to make changes – changes that shake up your congregation or your life – to prepare the way for Jesus's people who look different than you do?
Just as we must prepare the way for Jesus by making changes in our lives, we as a conference and as churches – and as individuals – can seek to prepare the way for God's multiracial kingdom.
Church Relations: I am passionate about expanding how we think through the church's mission in the world. Our tendency in today's polarization is to become more fearful and less trusting of others, even other Christians. If we aren't proactive in building connections and trust, we may end up closing our eyes to the ways God is working beyond our congregation. While the conference is an imperfect vessel and merely one route for connection to God's expansive work, I am grateful for the way it connects us. Collaborating in mission, service, worship, and relationship is a wonderful way to remember how big our God is.
A central part of my Church Relations role is to visit VMC churches. Since I added church relations to my role I have been able to visit 16 VMC congregations, about a quarter of our churches. I hope to get to many more in the new year, be it for a sermon or simply to worship with you. Feel free to reach out if you'd like me to visit your congregation.
In thinking both about the broader church and racial justice, my prayer for all of us as we remember God's incarnation is that we continue to seek to prepare the way for more connections and collaborations for the glory of God's kingdom.
Peace of Christ,

Caleb Schrock-Hurst