February 4, 2023 - 4:30 pm
Resources & Documents from this event:
Virginia Mennonite Conference invites delegates and guests to the 2023 Winter Delegate Assembly at Washington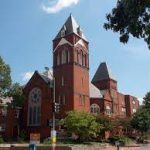 Community Fellowship on Saturday, February 4. Registration is now open. Bus tickets are also available. We have reserved a bus to travel round-trip from Harrisonburg.
Bus tickets are currently limited 27-passengers. If there is enough interest we can secure a larger bus for 55-passengers. If  seats are sold out, contact June Miller ([email protected]) if you would like to be on the waiting list.
Winter 2023 Assembly Agenda
9:00   Welcome and Call to Order
9:15    Worship
9:30    Gilliam & Associates Report
10:00  Table Discussion
11:00   Break
11:15    Interim Conference Leadership Team (iCLT) Sharing
11:50   Racial Justice Task Force (RJTF) Sharing
12:00  Lunch
1:00   Gifts Discernment Committee Nominees
1:45   Bylaw Revisions
2:30   Break
2:45   Treasurer's Report
2:55   VMMissions Sharing
3:10   Mennonite Church USA Constituency Leaders Council (CLC) Sharing
3:20   2020 Strategic Plan: Practical Action Plans
3:35   Release of the exchange
3:45   Acknowledgement service / Closing Worship
4:20  Adjourn
Updated 1-12-2023 JM
Event location:
Washington Community Fellowship
Event address:
907 Maryland Ave. NE, Washington, DC 20002 [
Google maps
]
Register Here