Virginia Mennonite Conference Assembly
July 18, 2020 // 8:30 am - 12:00 pm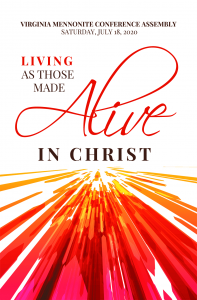 Save the Date for Virginia Mennonite Conference Assembly, Saturday, July 18. The theme is "Living As Those Made Alive In Christ" based on Colossians 3:12-17.
Assembly will look different this year in light of social distancing, gathering in an online forum in a one-day event via Zoom. Participants will engage the theme "Living as Those Made Alive in Christ," and Assembly will feature input by Mennonite Central Committee U.S. Executive Director Ron Byler. Ron will be our keynote speaker with a focus on MCC's 100 years of mission endeavors.
The time format will be two sessions: 8:30-10:00 a.m. and 10:30-12:00.
More information to come.
Event location: Online via Zoom