Lenten Series: A Guided Imaginative Scripture Contemplation Series With MaryBeth Heatwole Moore
Series Videos
Guided Imaginative Contemplation — Revised Common Lectionary, Lent 1 (Luke 4:1-13)
---
Guided Imaginative Contemplation — Revised Common Lectionary, Lent 2 (Luke 13:31-35)
---
Guided Imaginative Contemplation — Revised Common Lectionary, Lent 3 (Luke 13:1-9)
---
Guided Imaginative Contemplation — Revised Common Lectionary, Lent 4 (Luke 15:1-3, 11b-32)
---
Guided Imaginative Contemplation — Revised Common Lectionary, Lent 5 (John 12:1-8)
---
Guided Imaginative Contemplation — Revised Common Lectionary, Palm Sunday (Luke 19:28-40)
---
Eastern Mennonite Seminary and Virginia Mennonite Conference present
LENTEN SERIES: A Guided Imaginative Scripture Contemplation Series
Meeting via Zoom on Tuesdays 9:00 – 10:00 am OR Tuesdays 7:00 – 8:00 pm
March 1th – April 5th, 2022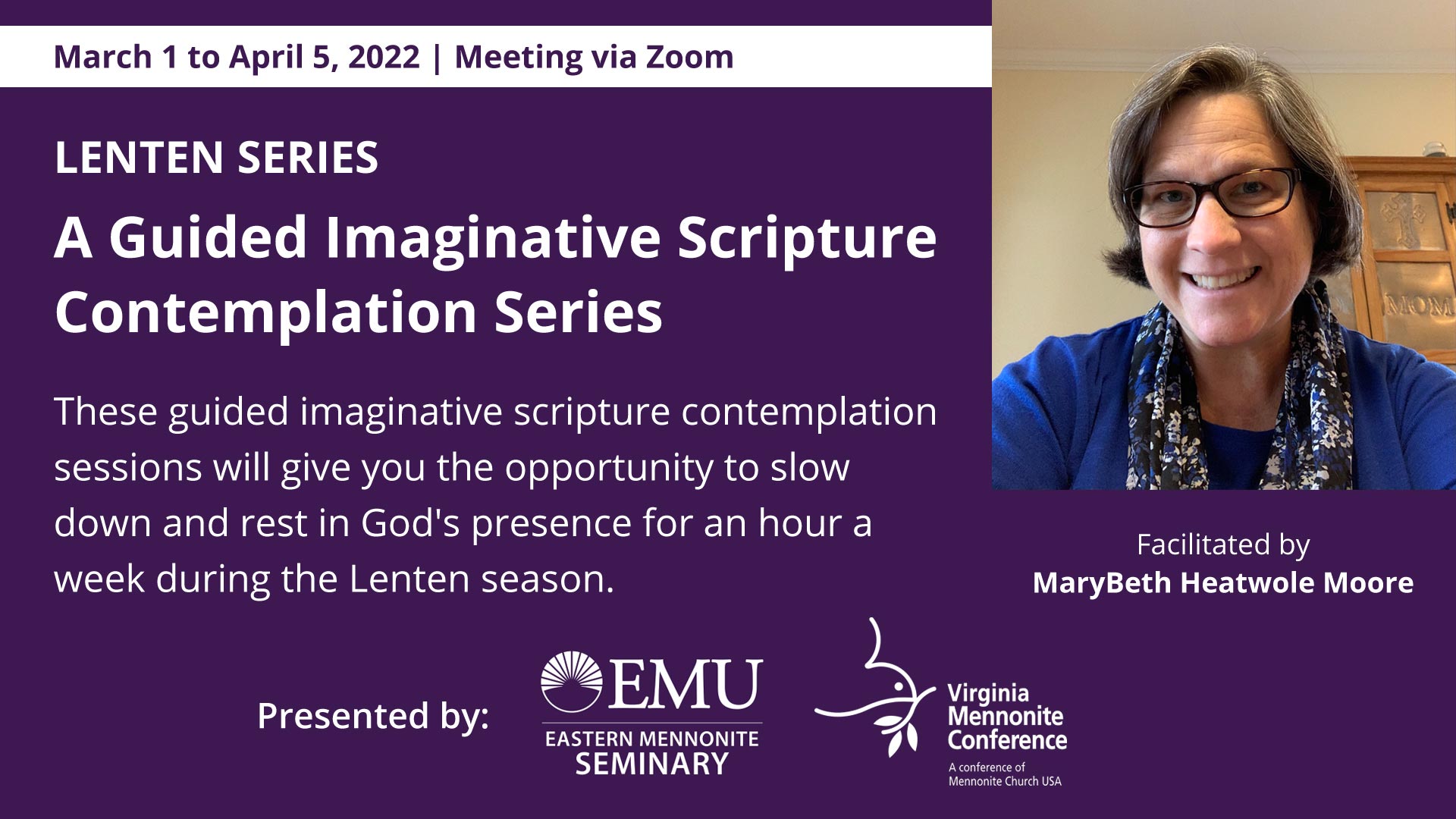 Lent is a season of prayerful reflection lasting 40 days echoing Jesus' time of prayer and fasting in the wilderness. During this season, we are invited to reflect on our walk with Jesus and prepare our hearts and minds to celebrate his resurrection from the dead on Easter. These guided imaginative scripture contemplation sessions will give you the opportunity to slow down and rest in God's presence for an hour a week during the Lenten season.
Each week, we will pray and play with a Gospel passage following the Revised Common Lectionary. You will be invited to enter the scene of the text, using your senses of sight, sound, touch, smell, taste, emotions, and occasionally reason as you imaginatively interact with Jesus and his companions. After the guided reading you will be given time to sit in silence to ponder the experience and converse with God. Following the silence, there will be an opportunity to share your reflections with a small group.
MaryBeth Heatwole Moore is a recent graduate of Eastern Mennonite Seminary (2021). She discovered the prayerful, playful practice of Ignatian Contemplation during seminary and chose to focus on this method of praying with scripture as her Master of Divinity capstone project. Imaginative scripture contemplation has been life-giving to MaryBeth throughout the pandemic, and she is passionate about sharing this practice with others. MaryBeth is ordained by Virginia Mennonite Conference and in January stepped down from leading Signs of Life Fellowship (Staunton, VA) after 12 years of service. She continues to serve in VMC as a member of the Faith & Life Commission and the Leadership Enrichment Committee.