February 5, 2022 // 9:00 am - 3:45 pm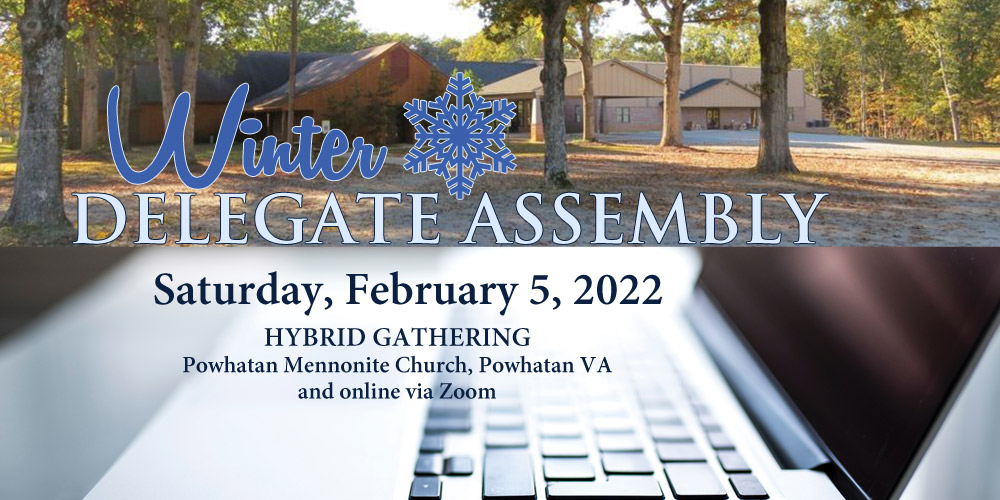 ---
Introduction
Powhatan Mennonite Church, Powhatan, Va., will host the 2022 Winter Delegate Assembly on February 5.
In addition to an in-person meeting, the event will be hosted on a Zoom call, allowing for delegate voting and feedback regardless of location.
The Conference Council of Virginia Mennonite Conference approved the meeting location on December 16, noting that the spacious gathering area and lunch arrangement will allow the most safety in the ongoing Covid pandemic.
This will be Sara Wenger Shenk's first Assembly gathering as Moderator. In addition, VMC will be utilizing her speaking and theological gifts as a respected author and wise, proven leader by inviting her to elaborate on the Six Emerging Principles to Keep Us Grounded in Christ she shared earlier in written form with conference leaders.
She will deliver two keynote addresses entitled: "A vision for church: Not like the Gentiles who lord it over you" and "Compassionate leadership: Let the children come to me."
Delegates are encouraged to save the date and plan to attend this important gathering in the life of the Conference.
---
The CDC (Centers for Disease Control) recommends protecting yourself and your community by getting your COVID-19 vaccine and wearing a mask indoors in public if you are in an area of substantial or high transmission.

If you register for the in-person meeting but then experience COVID symptoms, test positive for COVID, or simply feel unwell in general, please contact VMC to change your ticket to participate in Winter Delegate Assembly via Zoom.

Masks will be worn onsite at Powhatan Mennonite Church at all times except during the meal.
---
Agenda
Winter Delegate Assembly
February 5, 2022
| | |
| --- | --- |
| Welcome | |
| 9:00 | Call to Order & Welcome - Sara Wenger Shenk |
| | Introduction of Guests – Clyde G. Kratz |
| | Powhatan Mennonite Church Welcome - John Engle |
| | Review and Approval of Minutes – Jim Hershberger |
| Worship & Equipping | |
| 9:15 | Worship by Worship Team of Powhatan Mennonite Church |
| 9:30 | Presentation #1: Sara Wenger Shenk (A Vision for Church: Not like the Gentiles who lord it over you) |
| 10:00 | Table Discussion and Reporting in |
| 10:45 | Break |
| Discernment | |
| 11:15 | Presentation #2 Sara Wenger Shenk (Compassionate Leadership: Let the children come to me) |
| 11:45 | Table Discussion and Reporting in |
| 12:20 | Gifts Committee Report and Balloting – Steve Carpenter |
| 12:30 | Recess for Lunch |
| Equipping & Discernment | |
| 1:30 | Report from Executive Conference Minister: Clyde G. Kratz |
| | By-laws Report |
| | Release Mt Pleasant Mennonite Church |
| 1:45 | Treasurer Report - Leroy Kauffman |
| 1:55 | MC USA Special Delegate Assembly overview to prepare pastors and interpret resolutions, with Q&A for clarification - Leslie Francisco |
| 2:25 | Racial Justice Task Force Report - Caleb Schrock-Hurst |
| 2:55 | C3 Mission Report - Lesley Francisco McClendon |
| 3:15 | Moderator Comments |
| 3:20 | Worship by Worship Team of Powhatan Mennonite Church |
| 3:45 | Prayer and Adjourn |
---
Resources
Download the Delegate document packet (PDF)
---
Registration
Purchase tickets for the February 5 event:
Attend Winter Delegate Assembly in person (includes provided lunch)
Event location:
Powhatan Mennonite Church and via Zoom
Event address:
3540 Old Buckingham Rd, Powhatan, VA 23139 [
Google maps
]