Mennonite Women of Virginia
Check out the new Mennonite Women of Virginia blog! It's a place for women to share their stories and connect with one another across the conference. If you have interest in writing for the blog as a regular contributor or even as a guest on occasion email us at mwvablog@gmail.com.

Don't forget to register for the Women's Retreat on Oct. 25-27! Early-bird registration ends Aug. 15, but we will accept registrations until Sept 20. Click on the link to see the full brochure with more information. We encourage you to join other women from throughout all of VMC to "sister" together with a great time of fellowship, spiritual input and reflection and even free-time! Prayerfully consider making it an event on your calendar.
Registration Brochure 2019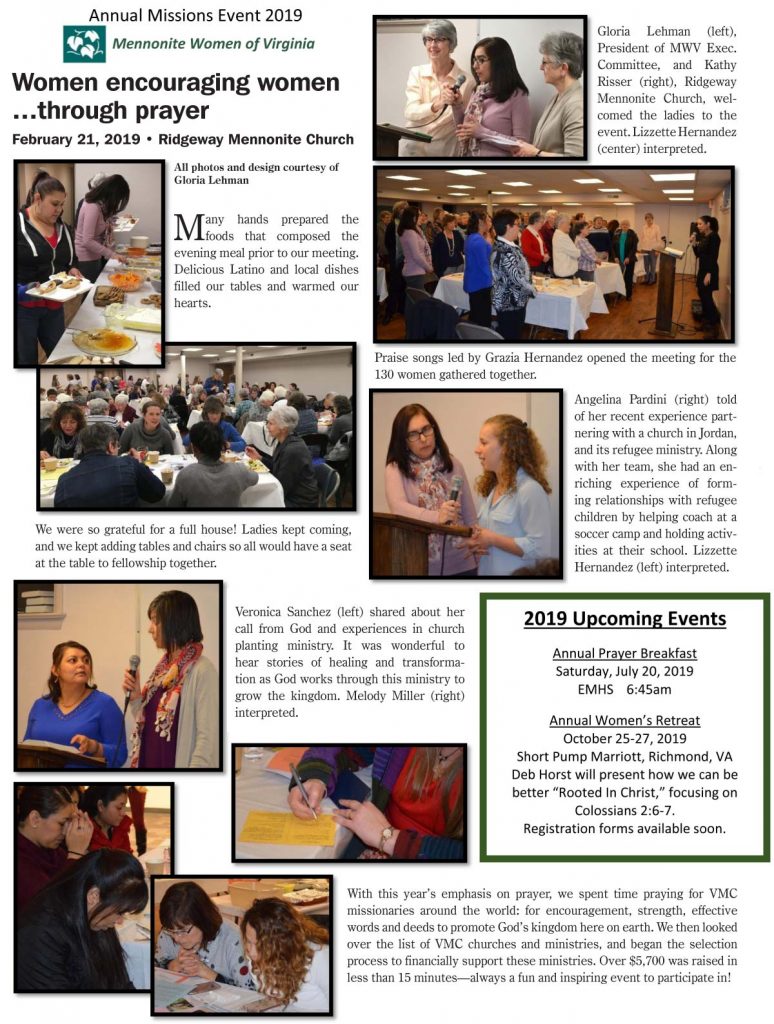 Click to read larger version.

Stay up-to-date on Mennonite Women of Virginia's Facebook page.



Mennonite Women of Virginia
Empowered Women Creatively Building Christ-centered Relationships through Fellowship, Leadership, Mission and Service.
.
President: Gloria Lehman, Singers Glen, VA | lehmanglo@aol.com | 540-421-2122
Vice President: Marian Buckwalter, Fulks Run, VA | 540-236-8848 | smbuck7@gmail.com
Secretary: Evie Christner, Stephens City, VA | 301-338-1192 | eviechristner@gmail.com
Treasurer: Lois Maust, Harrisonburg, VA | 540-433-7085 | wlmaust@gmail.com
Missions Needs Secretary: Dianna Lehman, Harrisonburg, VA | 540-810-2706 | dianna.lehman@vmmissions.org
Publicity Secretary: Deb Pardini, Harrisonburg, VA | 540-256-2358 | pardinsp@hotmail.com