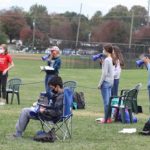 Eastern Mennonite School joins home and church in calling students to faith in Jesus Christ, academic excellence, personal integrity, and compassionate service in the world. EMS aspires to reflect Christ's light as a learning community where every student belongs, thrives, and lives God's call.
Educational philosophy: EMS has served Harrisonburg and the surrounding counties for over 100 years, combining an academically challenging curriculum with a strong commitment to music and the arts, Christian discipleship, peace and justice, service to others, and a global outlook.
The K-12 curriculum is designed to foster reading, research, writing and presentation skills that grow student curiosity, creative and insightful thinking, organizational strategies and a moral social conscience. A strong college preparatory track includes honors, Advanced Placement, and other advanced courses. Regular activities are also designed to help students grow spiritually as well as intellectually.