Mennonite Disaster Service of the Shenandoah Valley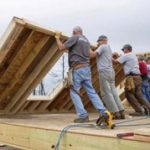 Mennonite Disaster Service is a volunteer network of Anabaptist churches dedicated to responding to natural and man-made disasters in Canada and the United States. Our aim is to assist the most vulnerable community members, individuals, and families who would not otherwise have the means to recover. MDS volunteers – men and women, youth and adults – provide the skills and labor needed to respond, rebuild and restore in the wake of a disaster. MDS is known for having a collaborative spirit, and we work with other groups including faith-based organizations, local recovery committees, and both governmental and non-governmental agencies. MDS is a 501(c)3 non-profit organization.
MDS Vision Statement: To inspire and equip every Anabaptist congregation to respond in Christian love with volunteers to those affected by disaster.