Mennowood Retirement Community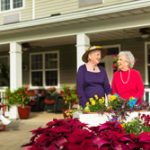 Mennowood Retirement Community is a tranquil, friendly place for seniors seeking a caring, enriching lifestyle.
It is our mission to enhance the quality of life for each resident through personalized attention and care. We believe in preserving dignity through personal choice, respect and understanding in a comfortable and welcoming environment that brings joy and fulfillment for those that live and work at Mennowood Retirement Community. Our retirement community offers what each resident needs; independent living, senior assisted living, memory care, and more. The focus is on providing seniors with a supportive setting so life is the way they want it to be.