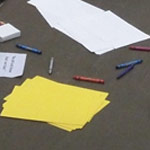 Middle School Retreat about finding God—even in the dining hall
November 10, 2012
by VMC Staff
Would you believe that on the weekend of September 22-23 a group of nearly 100 middle school students sat in complete silence for a whole minute? Or that a roomful of sixth-eighth graders would be able to use playdough, crayons, and photos to connect with God?
Worship happened in all kinds of new and unexpected ways at this year's conference middle school retreat.
Micah Hurst came prepared to step back from the traditional expectations of a retreat speaker and focused on allowing middle school students to experience God for themselves.
Rather than "talking at" the audience, he guided them through a variety of exercises that encouraged youth to discover how they personally connect with God. Participants learned how to quiet themselves and focus on God, they wrote a lament, and on Saturday evening they broke into groups of their choosing for a gifts and interest focused worship experience. Sponsors stepped up and led students through one of four sessions: worship through art, worship through nature, worship through song and dance, and worship through story.
Aided by worship leaders Seth Crissman, Mitch and Lauren Yoder, and Greg and Kristina Yoder, praise and worship showed up just about everywhere throughout the weekend. While the
leaders skillfully led the more traditional singing during the sessions and around the campfire, they will probably be most remembered for breaking out in a praise cheer in the middle of the dining hall. The catchy chant was picked up and carried home by many students and has probably found its way into some of their congregations!
Worship also found its way to the Saturday evening campfire, a first for the middle school retreat. The combination of silly songs, praise music, and, thanks to Myron and Regina Brubaker, kettle corn, created a lasting memory.
But the most important memory that we hope participants took home with them is a memory of a connection with God, whether through a still small voice or the voice of a friend. We also hope that they discovered their own worship style and learned that God can be experienced in many ways. Whether dancing, sitting, hiking, or drawing—God is there. In fact, God can even be found in the dining hall.
.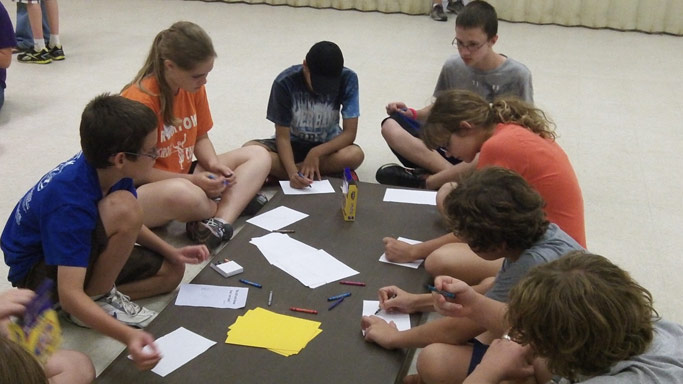 Worship through art participants found ways to connect with God and express their prayers using crayons and paper. Photo courtesy of author