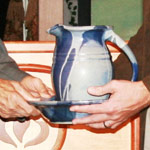 Sam and Sarah Weaver chosen for Lifetime Service Award
November 26, 2012
by VMC Staff
During Homecoming 2012, the Alumni Board of Eastern Mennonite School proudly honored Sam and the late Sarah Alderfer Weaver ('52) as this year's Lifetime Service Award winners.
Sam's visionary spirit, keen business acumen and engaging leadership in his position as principal of EMHS and throughout his career, was richly augmented by Sarah's grace and intuitive sense of truly understanding how to best connect with others.
Along with restoring EMHS to fiscal stability, stressing academic excellence in all areas, and emphasizing the commitment to sacrifice in order to sustain through programs such as Christmas Fund Drive, Sam and Sarah Weaver were instrumental in forming the school identity of partnership between home, church and school.
The imagery described in Ecclesiastes 4:12, "a cord of three strands is not quickly broken" guided the Weavers in shaping the school culture into one where all facets of student life are interwoven to ensure strength.
True partners through marriage, work, parenting and prayer, Sam was Sarah's faithful friend and greatest admirer up through the moment she departed this life on October 6, 2012.
Sam and Sarah were greatly humbled by the generous support given to an endowment named in their honor. Quickly surpassing its initial goal of $60,000 and still growing, this endowment will ensure that student financial aid is available to future generations of students who seek the school experience that Sam and Sarah helped shape.
"We don't feel worthy of this response," Sam humbly uttered recently. "We were simply doing our jobs; responding and doing the work that God called us to do."
.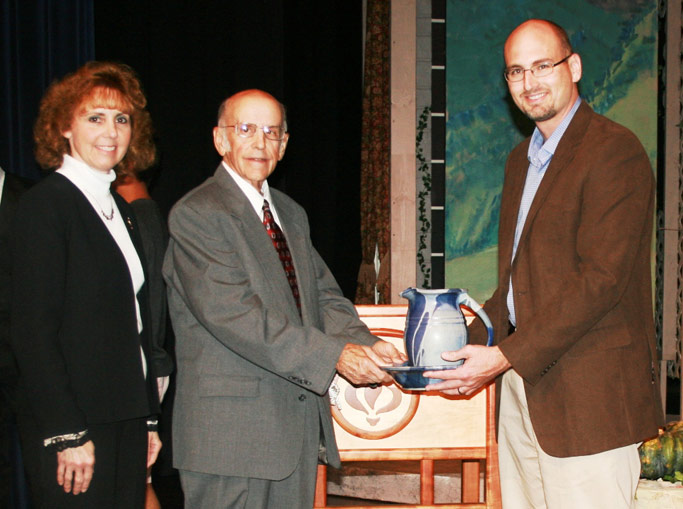 Former EMHS Principal Sam Weaver accepts the award from EMS Alumni Board Vice President Matt Weaver. Sam and his late wife, Sarah Alderfer Weaver, were honored at this year's Homecoming. Pictured to the left of Sam is his daughter Doris Weaver Leaman, who joined her father in accepting the award on Sarah's behalf. Courtesy of author