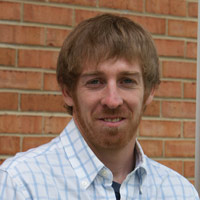 Reflections from 5+ years at Virginia Mennonite Conference
January 30, 2013
by VMC Staff
Reflecting on my work at Virginia Mennonite Conference over the past five years, I remember the annual retreats-how much joy middle school students experience in a game like Capture the Flag, and the significant impact that quality speakers and worship leaders have in the lives of youth. I'm gratified that VMC has offered the Senior High Retreat as an opportunity to bring youth together on a regular basis.
God ministered to me in numerous ways while organizing retreats, mostly with the opportunities to talk with persons working with youth at the annual VMC Youth Workers Retreat. Comparing how I lead the youth of Community Mennonite Church, my role since 2005, to other VMC congregations in similar or vastly different settings has blessed me.
Not only has conference employment provided me a window into how VMC congregations minister to/with youth; it also helped me become more sensitive to the significant faith development youth experience in VMC congregations. I see the significant impact that pastors, youth sponsors, mentors, and Bible quizzing coaches have on youth.
Additionally, I am more convinced that youth benefit the most from long-term commitment from adult leaders and that the typical two-year commitments do not provide enough consistency for deeper, and necessary, relationships.
This past summer at VMC Assembly, Lesley Francisco, Youth Pastor at Calvary Community Church, led three sessions. Lesley is a gifted communicator, which was apparent during her sessions with the youth, and her leadership role as an African-American woman in congregational ministry provided an example. The youth envisioned what their lives may become. VMC was able to provide the right person at the right time for the youth in attendance.
As I depart, I am grateful for the many persons who have accepted my invitation to participate in helping form the lives of VMC youth over the past years.
My pastoral role at Community Mennonite Church has expanded from half to full-time so I need to leave my VMC role. I am grateful that this job change has not taken me out of VMC and into another Mennonite conference, so many relationships continue. I look forward to being involved in shaping lives of VMC youth over the next five years.