September 23, 2013
by VMC Staff
When you start digging, you never know what you might uncover. To volunteers restoring the Breneman-Turner Mill, that is an understatement! The historic grist mill, an off-site property of the Valley Brethren-Mennonite Heritage Center, is located two miles north of Harrisonburg, off Route 42.
In 2009, a portion of the old Brenneman Church gravel road gave way over the mill's tail race allowing dirt and gravel to fill and block the race. Our deed requires the roadway to remain open for agricultural traffic, so the adventure began!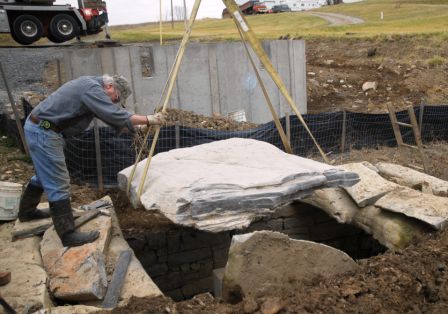 During the initial excavation of the roadbed and race, a unique log and stone bridge structure was uncovered. Intrigued by this find, our volunteers stopped their work. Historians from James Madison University were consulted and deemed the structure a historic site that needed to be preserved. With a preservation plan in place, work resumed and the six by eight foot 6,300 pound stone slab was lifted from the tail race to allow for excavation and construction of bridge abutments.
This spring, the stone slab was carefully lowered back into its original position and a vehicle bridge constructed above and beyond the stone bridge. A walking bridge allows visitors to see the historic stone bridge.
The Mill was built circa 1800 by Mennonite farmer, Abraham Breneman, and last operated by J. Howard Turner, a member of the Church of the Brethren. Visit the mill during our open house tours, Sept. 21 and Oct. 19, 10 a.m. to 3 p.m. Visit vbmhc.org/btmill to learn more about this historic jewel in the Valley.
The Valley Brethren-Mennonite Heritage Center (CrossRoads) is a Conference Endorsed Ministry.