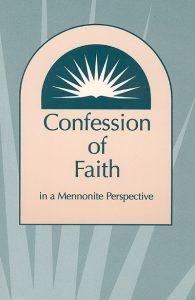 Confession consultation event
September 23, 2013
by VMC Staff
Credentialed leaders of VMC are invited to a consulation on the Confession of Faith in Mennonite Perspective.
Hosted by Waynesboro Mennonite Church, the consultation will be Friday, November 8, from 9 am to 3 pm at the church (1801 Monroe St., Waynesboro, Va.)
George R. Brunk III and Owen Burkholder will be our two resource speakers.
Hear an overview of how the Confession of Faith in Mennonite Perspective was essential for the health of the church.
Anticipate discernment on the role of a confession in our 21st century context.
Learn about leaders reflections on the role and purpose of a confession in ministry.
Join us for a time of worship, listening, learning, invigorating conversations, and discernment.
Credentialed leaders, active and retired, are welcome! More information will follow.