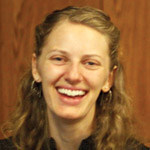 Signs of Life creates space for worship in Deaf culture
December 27, 2013
by VMC Staff
MaryBeth and Chris Moore expected God would call them to use their training as nurses to go to impoverished places.
So they were surprised in 2000 when they felt convicted to adopt Mynor, an 8-year-old from Guatemala who is deaf.
"It was one of those things where if we hadn't adopted him, it would have been directly disobeying God," MaryBeth said.
Mynor was their first step into the Deaf community and the reason they began to learn American Sign Language. Since then, they've adopted Mario, another deaf son from Guatemala. They also relocated, changed careers and found themselves in a routine that revolves around activities for the Deaf community.
And in 2006 they followed another calling to begin a youth group for deaf students that grew into Signs of Life Fellowship for the Deaf.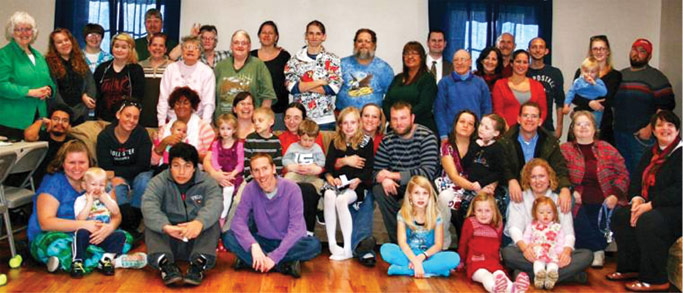 Signs of Life Fellowship gathers together. Photo courtesy of MaryBeth Moore
The Virginia School for the Deaf and the Blind is located in Staunton. It attracts a high population of deaf people to the city. Still, Signs of Life is the only independent deaf church in the Staunton area that meets regularly for Sunday worship. It's one of four Deaf churches within Mennonite Church USA.
Besides the Moores, only one of the 30-40 people who attend Signs of Life regularly came from the Mennonite tradition. Many don't come from church backgrounds at all. And the Moores have discovered the needs in the deaf community to be great.
"There are so many holes in their understanding of the Bible," MaryBeth said. "They miss out on so many things."
The Moores were commissioned to assist with deaf ministries at Community Fellowship in 2008 by Springdale Mennonite Church in Waynesboro. Thomas and Knopps joined them, along with two other couples—Harry and Lacey Wood and Jack and Jennifer Johnson—in helping Signs of Life get started.
The five members of the leadership team do their best to make Signs of Life accessible to the Deaf community. That means casual sermons, signing praise music lyrics together, children's stories from videos made by established deaf ministries, and a facilitated discussion about the material afterward. Plus they host Bible studies, youth group and holiday parties and organize trips to various deaf-friendly events.
After each service there's a potluck fellowship meal. The Moores realized early on that people were more likely to come back if there were regular meals. Hosting holiday parties, birthday parties and baby or bridal showers have also drawn people in.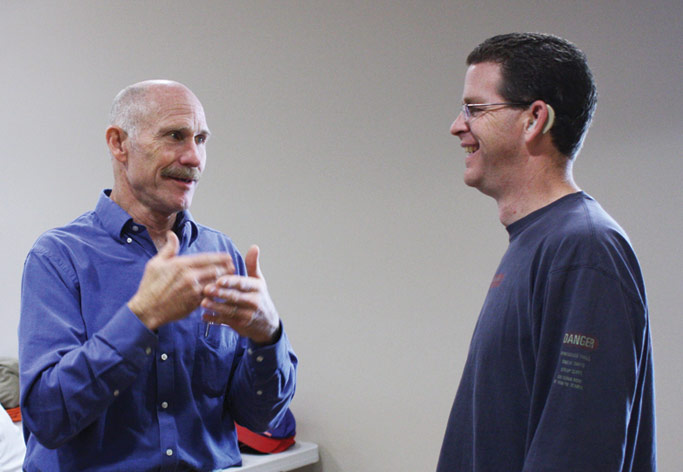 Thomas Knopp, left, talks to Harry Wood. They were both part of the group who founded Signs of Life, an all-ASL church in formation in Virginia Mennonite Conference. Photo by Kelli Yoder/MWR
Initially, Signs of Life was worked into the budget of Community Fellowship and Springdale Mennonite. In 2010 they started collecting their own tithes and have managed to be self-sufficient since then.
They even raised funds to take a mission trip through Virginia Mennonite Missions to Jamaica this June, where they conducted a Bible school for students at the Maranatha School for the Deaf.
"We want to have more connections with Anabaptist deaf ministries," MaryBeth said.
Earlier this year, they began the process of becoming part of MC USA's Virginia Conference and are a church in formation.
Article reprinted from Mennonite World Review with permission.