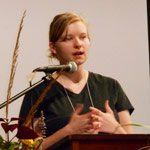 VMC Women's Retreat focuses on 'Familiar Blessings, Blowing Spirit'
December 9, 2013
by VMC Staff
Some 85 sisters considered the spirituality of our parents and grandparents and how we focus on Jesus today during the annual Virginia Mennonite Conference Women's Retreat, Sept. 27-29 in Lynchburg, Va. Attendees came from some 20 VMC congregations. The retreat was held at the beautiful wooded Eagle Eyrie Baptist Conference Center.
Dawn Ruth Nelson, Mennonite pastor and spiritual director, presented "Familiar Blessings, Blowing Spirit." Through telling the story of her grandmother's life and her own life growing up in suburban America and spending 12 years doing peace work in Catholic Ireland, Nelson encouraged sisters to let themselves be loved by God.
.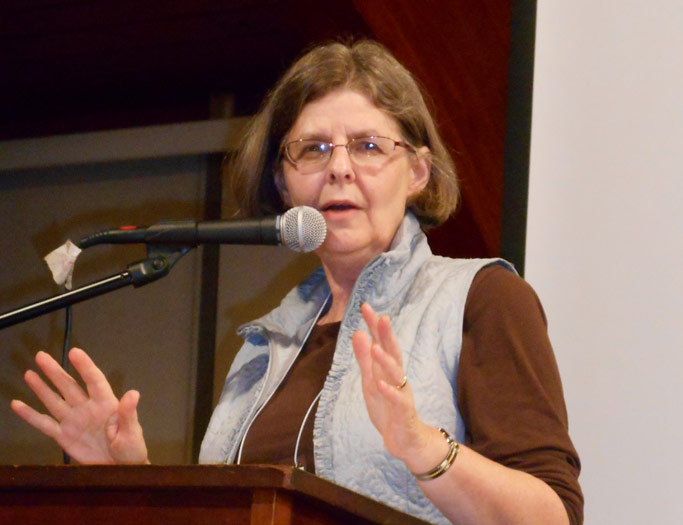 Dawn Ruth Nelson drew women into conversation about their own spiritual lives. Courtesy of author
Attendees worked with the following themes: everyday spirituality, service, nonconformity, community, gelassenheit or meekness, and the person of Jesus and the Bible. Nelson led several lectio divina readings of Psalm 139:13-16.
Gifted women of Harrisonburg Mennonite Church led worship music at each session. Theme songs included "Come as You Are" by Paul Gurr and the hymn "Mothering God, You Gave Me Birth." Pam de Young, president of Mennonite Women of Virginia, shared encouragement in the Saturday morning session.
.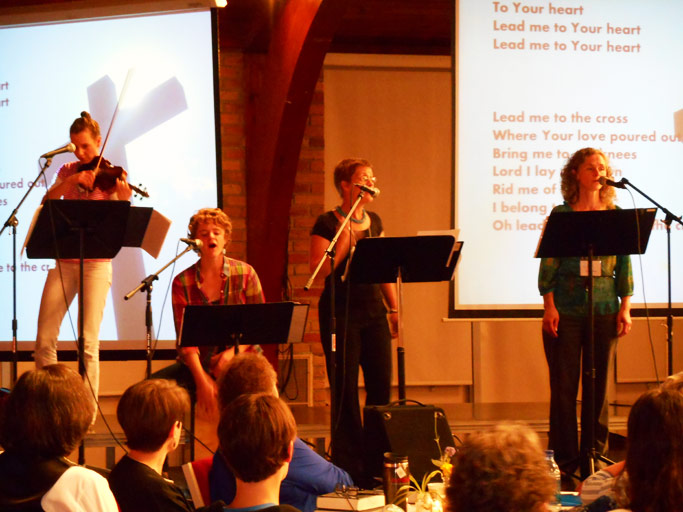 Women from Harrisonburg Mennonite Church lead worship.Courtesy of author
Saturday afternoon provided opportunity for hiking, knitting and knotting (with two comforters going to MCC), Zumba, silent mediation, weaving, and learning about sharing spirituality with grandchildren. Saturday evening included a talent show and hymn sing.
The retreat ended with a communion service led by retreat planning committee chairwoman Karen Guisewite of Warwick River Mennonite.
Nelson is pastor of Methacton Mennonite Church in Norristown, Pa., and author of A Mennonite Woman: Exploring Spiritual Life and Identity. She is the daughter of Mennonite author and historian John Ruth.
More than $900 in offerings collected through the weekend went to support the Mennonite Church USA's Women in Leadership Project, and $100 went to the Mennonite Women of Virginia General Fund.