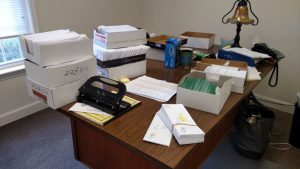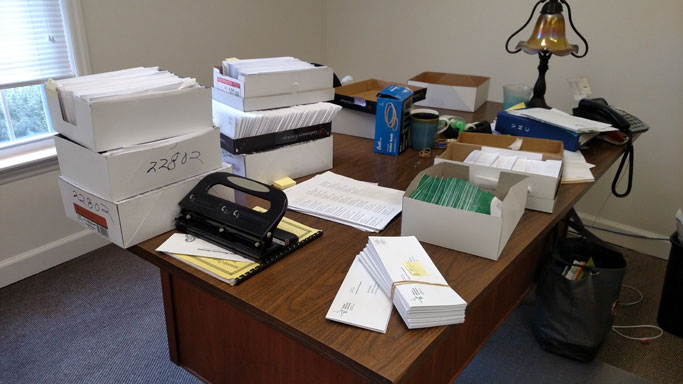 How VMC is equipping leaders; will you join us?
December 3, 2015
by VMC Staff

As I pray and reflect, I can't help but remember working through the logistics necessary to carry out Executive Conference Minister Clyde Kratz's vision over the past calendar year:
A January "Forum on Prison Ministry," an effort to collaborate on the issue of overcrowding in the Harrisonburg/Rockingham County Jail, and other issues and ministry opportunities as we relate to incarcerated individuals
The February 2015 Ministers Retreat: Williamsburg Christian Retreat Center staff (even the administrative staff!) spent nearly a week scrambling to remove snow from parking lots and drives so that pastors could have a bit of down time and enrichment
Three youth-related events: The Youth Workers Retreat, Senior High Retreat and Middle School Retreat, organized by volunteer pastors from Harrisonburg and Northern Districts of VMC
Assembly at Harrisonburg Mennonite Church in June: "Built into a Spiritual House." This Assembly included a pre-Assembly Summit for credentialed leaders and provided a refresher on ethics and polity
A week of missional church events, "Vision, Learning, Refocus": guest speaker Dr. Darrel Guder from Princeton. This event was held in collaboration with EMU, Eastern Mennonite Seminary, Park View Mennonite Church, and Virginia Mennonite Missions
The re-imagining and refurbishing of a vacant room, previously used for storage, into a new "Discernment Room" with Skype capability, allowing us to more effectively use conference resources for gathering, discerning the day's issues, and vetting and approving credentialed leaders. This room was made possible largely through donations of labor, money, furniture, and even a plant
Since September, we licensed three and ordained five credentialed leaders who will serve as missionaries, congregational leaders, and chaplains
.
All of the above has led to equipping our pastors better in 67 churches throughout Virginia, Kentucky, the Carolinas, and Tennessee. Our mission is sharing the good news, and equipping and discipling the Virginia Mennonite Conference branch of God's church.
This task of equipping is a must. Approximately 66% of the pastors now serving in our conference will reach age 70 within the next 15 years.
You do not need to wait for your letter to arrive by mail. Begin praying now – with us and for us – as we seek ways to effectively use the resources God has provided for ministry. Please consider a year-end gift to Virginia Mennonite Conference.
Give one of two ways: by online donation or by mail:

Virginia Mennonite Conference
901 Parkwood Drive
Harrisonburg VA 22802
Blessings,
Anieta McCracken
Administrative Services Manager
.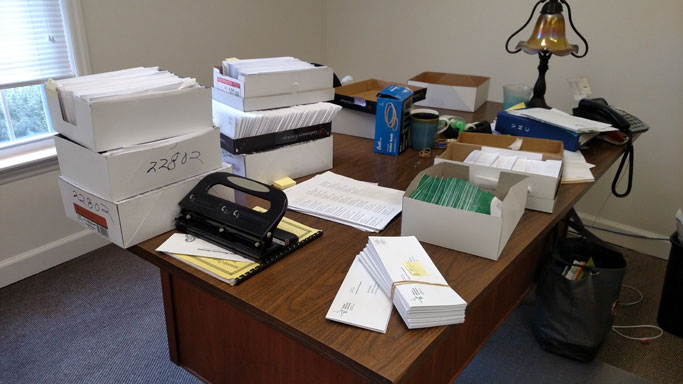 Photo: Anieta McCracken's work station, about halfway through the preparation of a 4,000 piece end of calendar year financial appeal.
.
Letter from Clyde G. Kratz, Executive Conference Minister:
Recently Eunice (my wife) and I traveled to a congregation where I met with the Elders, provided a sermon, and engaged in a question and answer period with the members. During our travel she inquired about whether or not I enjoy this type of work. I responded by saying: this is what I prepared to do – the work involves casting a vision, building bridges between the past and the present in a missional way; it involves encouraging ministers in a time of turbulence of culture; and it involves careful listening to sincere people's concerns.
As I travel to visit congregations on Sundays, share about the vision of Virginia Mennonite Conference, and seek to offer hope in the midst of anxious times, I am enriched by being part of a dynamic people of faith. I remain encouraged by the quality of pastoral leadership that exists in our congregations and the opportunities that I have to learn with them about our changing times.
Many people have wondered if a conference is a viable entity for the future. I answer with a resounding, YES! A conference is a network of congregations that seeks to learn from each other about the endeavors of community ministries, faith formation, mutual care, leadership practices, stewardship, and practices of congregational life. A conference is an umbrella for various ministries that have become institutions in their own right, but value the engagement with church leaders to help shape the soul and moral ownership of their ministries. A conference helps define leadership development for pastoral leadership, missional engagement, and the rate of social change within the faith community. Finally a conference is a set of relationships with a commitment to give and receive counsel on matters of faith and practice for the health of the faith community.
This fiscal year I am tasked with the responsibility to raise approximately $62,000 from individuals. I am inviting you to consider how you might sustain the work of Virginia Mennonite Conference with a charitable gift during this season of giving. I welcome charity gifts great and small that are within your financial means. Persons who contribute $500 or more in a given fiscal year will also receive a periodic newsletter highlighting some the joys and challenges of my ministry as the Executive Conference Minister. Please consider how God is calling you to be a partner in the ministry of Virginia Mennonite Conference.
With hope and joy,
Clyde G. Kratz