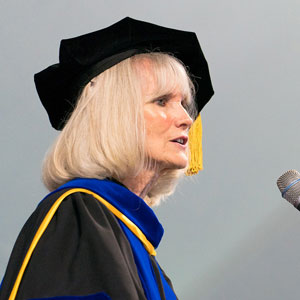 EMU graduates urged to be "moved to action by gratitude"
July 27, 2019
by Lauren Jefferson
Editor-In-Chief within Eastern Mennonite University's Marketing and Communications Department
Eastern Mennonite University's 2019 graduating class received a final assignment at the start of their commencement ceremony: "Raise your hand if this describes you," said retiring psychology professor Judy Mullet, listing lengths of time in which students may have finished their degrees. At "Thirty-two years?" she raised her own hand.
In her address, Mullet highlighted gratitude, "the only soul-worthy response to the endless gifts given to us." Gratitude is what "moves us to action," she said, "to help others, to make healthy decisions, to persist in tough situations." It's also at the heart of Micah 6:8, the Bible verse that is foundational to EMU's mission, because "there can be no justice or kindness without gratitude," she said, "and gratitude is the only route to humility that I know."
At the May 5 Commencement, 486 degrees were conferred. Twenty-three graduated from Eastern Mennonite Seminary and 30 from the Center for Justice and Peacebuilding.
Nelle Zimmerman '19, age 41, told her fellow graduates, especially those who enrolled in college soon after high school, that life away from the classroom is still a learning opportunity. She learned as much from the experiences of her cohort, ages 27-57, as from her coursework. "I don't see this as a time to be exiting the classroom but rather a time to discover where your next classroom will be."
Tiffany Dickson MSN '19 was irrevocably changed in 2014 when her husband Corporal Bryon Dickson II, a Pennsylvania State Trooper, was murdered. Classmates in the MS in Nursing program helped her realize her leadership capabilities. Dickson, mother of two, is now a stroke coordinator at Commonwealth Health Regional Hospital of Scranton.
"What we found was love … the love that embraces us that allows us to lead," she said, through tears. "I have heard that you don't choose organizations, but organizations choose you. I am so proud to have been chosen by such a loving, caring and honorable organization as Eastern Mennonite University because it has enabled me to become the nurse that I once was."
While Tyler Goss MDiv, MA '19 earned dual degrees from Eastern Mennonite Seminary and the Center for Justice and Peacebuilding, he also was a residence director. His first year at EMU was also the senior class's first year on campus. "If anyone would know you're ready, I would," he said, to loud cheers. "Your past years here are testament enough that you know what to do on this road ahead."