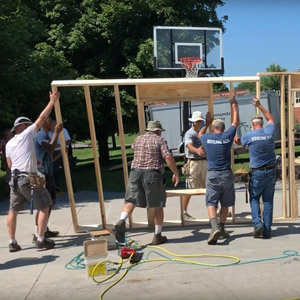 Support the VMC Partnership Home Project for the Walker family
August 4, 2019
by VMC Staff

Credit: Video shot and edited by Terry Burkhalter and shown at Virginia Mennonite Conference Assembly, July 19, 2019.

Virginia Mennonite Conference is working with Mennonite Disaster Service to build a house for the Walker family of West Virginia, whose home was destroyed in a 2016 flood.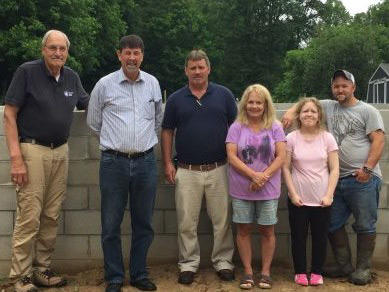 With your help, the Walker family (Daniel, Darla, son Daniel Davis, and daughter Rebecca) will be home before winter. For the past three years, since a flood in 2016 destroyed their Clendenin, West Virginia, home, they have lived in a home belonging to Darla's mother; who is living with a sister 45 minutes away.
Under the leadership of VMC's co-project coordinators, Sam Miller and MDS Representative Rodney Burkholder, the footers and cinder block foundation were built on the Clendenin site. Chris Riddle will pour the cement floor and secure it to the foundation walls.
Meanwhile, on Lindale Mennonite Church's parking lot, the Builders Guild in Harrisonburg framed the house before the dedication during Assembly on July 19, 2019. The framed walls were shipped to West Virginia and placed on the foundation.
VMC member congregations are invited to donate toward the Partnership Home Project. This project is $70,000, however, FEMA has already provided $30,000. VMC congregations are being invited to hold a special offering to raise $40,000. Please consider a gift for this project as our congregations demonstrate compassion to the Walker family.

Virginia Mennonite Conference congregations are encouraged to contribute to the MDS Walker PHP project.
Contact Clyde G. Kratz with any questions.
---