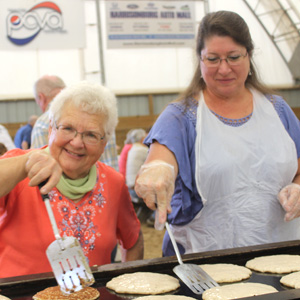 The church in service at the Relief Sale
August 14, 2019
by Marisa Clymer Shank
Relief Sale Publicity Committee
Volunteers make pancakes for the Relief Sale breakfast in 2018. Photo: Jim Bishop

Arriving early on a brisk fall morning to beat the breakfast rush at the annual Virginia Mennonite Relief Sale, I marvel at how many people were here before dawn to ensure that the donuts are fresh, pancake batter is mixed, and hundreds of chairs are set up in the auction building. Each year, as if by magic, this event gets set up and run by over 1,000 volunteers. So much happens behind the scenes in the days and months beforehand.
The relief sale board, also comprised of volunteers, meets monthly to discuss finances, publicity, food and volunteer coordination. May through September the board is joined by congregational representatives from over 35 churches in the Valley. Many congregations have taken on a booth or two at the Relief Sale. For example, one church will coordinate volunteers to dip ice cream, while another will coordinate making potato chips. Congregational representatives are an invaluable link to the churches that encourage individuals to volunteer during the sale.
Not only do volunteers run the booths, many churches also cover the cost of whatever they are selling in order to ensure 100% profit for the Relief Sale, which in turn donates the funds to local and international projects. Every year the relief sale board picks one local agency in Harrisonburg/Rockingham Co., and one in Augusta County to receive funds and supplies. This is just part of the incredible approximately $300,000 that is collected each year for international relief efforts through MCC.
The annual Virginia Mennonite Relief Sale provides an opportunity for individuals to serve in their own backyard, while benefiting people across the Valley and internationally. If you are interested in volunteering, please email [email protected] or contact your congregational representative.