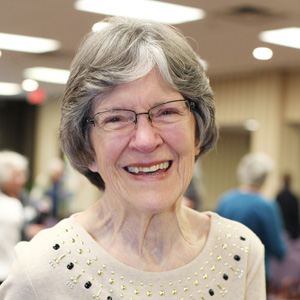 Annual volunteer award given at VMRC
August 22, 2019
by Maureen Pearson
Director of Public Relations & Outreach at VMRC
Carolyn Nowlin and her late husband, Pres Nowlin, were named by Virginia Mennonite Retirement Community (VMRC) as recipients of this year's Claude Hess Distinguished Service Award. The annual award is given to the volunteer(s) who "Builds Community Spirit at VMRC through Faithful Christian Service." Carolyn shares her thoughts on volunteerism in this Q&A.
Some of your volunteerism involves serving with children/young people like the Grand Bigs program at Waterman Elementary School and as a Pen Pal to Skyline Middle School students who are new to this country.
Carolyn: I like kids. They are so honest, fun and uninhibited. Being a pen pal with a middle school student was a different angle, especially because I'm interested in cross-cultural relationships. As a Grand Big, I've enjoyed watching my "little" grow from kindergarten to third grade. To see her blossom has been a delight.
Where do you volunteer at VMRC?
Early on, Pres and I accompanied residents in wheelchairs who needed assistance to their appointments. I'm enjoying being a hospitality volunteer in the café one day a week. That enables those who prepare food to do what they do. Most recently, I've started to schedule baggers and cashiers in (VMRC's) Main Street Store. The store makes a big difference for people (at VMRC) so, I felt compelled to do something to help keep it going.
How did you get involved with those volunteer opportunities at VMRC?
Pres and I heard right away there were lots of opportunities at VMRC. We went together to talk with Emily Young, the Volunteer Services manager, to see what was available and learn what people needed.
What or who influenced your volunteering?
My volunteering is permeated with gratitude and joy. It's what we do as people of faith. Jesus said that when we do these things for others, we do it for him.
Before moving to Harrisonburg, what place did volunteerism have in your life?
Much of my service was through church. I was involved in Bible study at a women's prison in Goochland (Virginia) where the song they always wanted to sing was 'Amazing Grace.'
What does it mean to be honored with VMRC's Volunteer Service Award?
I was so stunned. Truly, there are many others who deserve this award. It was such a lovely memorial for Pres; I couldn't think of a sweeter way to remember him.