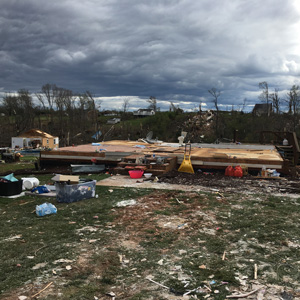 Feeling like Job: rebuilding after a disaster loss
September 9, 2019
by Rich Rhodes
President of Mennonite Disaster of Virginia
After they saw that tornado warnings had been rescinded in their area of Amherst County, in southwestern Virginia, Frank and Mary went to bed. When the twister hit their home in the small town of Elon, they found themselves several dozen yards away from their home in a debris field down a hill.
Miraculously, they were not seriously injured, but Frank and Mary lost everything, including two vehicles.
The April 15, 2018, storm system affected areas of the Eastern United States with severe tornadic activity. Major damage occurred in several localities in southwestern Virginia, the hardest hit community being Elon.
In this area, near Madison Heights and just east of the Blue Ridge mountains, 20 homes were destroyed or had major damage, after an EF3 tornado formed and passed through. Ten persons were injured, but thankfully no fatalities occurred.
Frank and Mary's story reminds me of the biblical story of Job (Job 1:18-19), where a mighty wind collapsed the house where they were feasting. But Job lost everything including his family, whereas Frank and Mary thankfully did not come to harm.
Following the tornado, the Amherst community formed a disaster recovery group (ADRG) to assist needy residents with housing needs. Now, more than one year later, a house is being constructed for Frank and Mary. The Amherst Habitat for Humanity organization has been given this task, and they have asked MDS of Virginia to assist. The Mennonite Disaster Service Shenandoah Valley Unit helped with the roofing portion on Frank and Mary's new home and anticipates continuing to assist in the future, as well as on another house for a second family.
To help with these new builds, contact your church's MDS congregational contact person, who will connect you to either the Eastern Va. MDS or Shenandoah Valley MDS Unit for work site coordination.