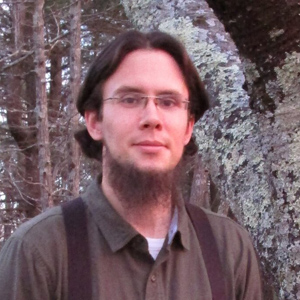 Samuel S. Funkhouser Named Executive Director of Brethren & Mennonite Heritage Center
December 15, 2020
by Beryl H. Brubaker
President, Brethren & Mennonite Heritage Center
---
The Brethren & Mennonite Heritage Center Board of Directors is pleased to announce the hiring of Samuel S. Funkhouser as the new Executive Director beginning January 1, 2021. Sam grew up in the Wakeman's Grove Church of the Brethren (near Edinburg, Va.), where his great-great grandfather had served as the congregation's first ordained minister. Sam was called to the ministry by the Wakeman's Grove church and later obtained degrees from James Madison University, (B.A. in Philosophy and Religion, 2009) and Princeton Theological Seminary ( M. Div., 2012). After graduating from Princeton, Sam and his family moved to Franklin County, VA, (2012), where they joined the Old German Baptist Brethren Church, New Conference. He plans to move to the Harrisonburg area with his wife Stephanie and sons James and Luke when he begins work at the Heritage Center.
While at Princeton, Sam completed a significant research project on the history and theology of early English-language Brethren hymnals, a work that is soon to be published in book form by the Brethren Encyclopedia. Since leaving Princeton, Sam has presented papers and given lectures at several conferences relating to Anabaptist history and theology. His research has appeared in print in both journal articles and a book chapter.
Prior to joining the Heritage Center, Sam served as the Director of Risk Management for Family Preservation Services, a community-based mental health provider with locations. throughout Virginia. From this work experience, Sam brings a wealth of business and leadership experience to the Heritage Center.
In his application for the Executive Director position, Sam described his excitement about working at the Heritage this way: "I feel that the mission, vision, and values of the Brethren & Mennonite Heritage Center resonate with my own personal values and passions. I am passionate about history, not as a dry, disinterested academic pursuit, but because I believe that we have much to learn from those who have gone before us – their stories still speak to us today. I am passionate about the intersection of faith, community, and the stewardship of creation, and have long believed that the shared heritage of Brethren and Mennonites has much to offer both to the larger Church and to a globalized society that is becoming increasingly fractured within itself and divorced from the creation on which it depends. Most of all, I am passionate about the Brethren and Mennonite emphasis on reflecting the teaching and example of Jesus – forgiveness and reconciliation, peace and non-violence, simplicity and service, hope and joy – a message that is more urgent than ever in these divisive and uncertain times.