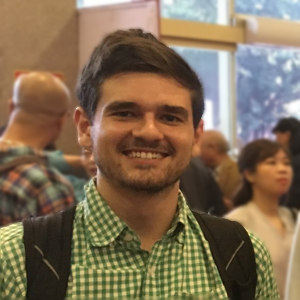 Virginia Mennonite Conference Hires Caleb Schrock-Hurst as Racial Justice and Equity Leader
May 13, 2021
by Jon Trotter
Caleb Schrock-Hurst has been hired as the Virginia Mennonite Conference Racial Justice and Equity Leader, a new quarter-time position. In this role, Caleb will support the work of the Racial Justice Task Force as they facilitate the Conference's anti-racism mandates: to equip members, to learn about existing racism, to develop leadership strategies, and to equip Conference leaders. He will begin on August 1, 2021.
"As the Executive Conference Minister, I am excited that Caleb is available to serve our conference in the role of Racial Justice staff person," wrote Clyde G. Kratz. "Caleb, as a young adult, brings leadership skills and experiences, a passion and sensitivity to racial justice concerns, and experience in cross cultural endeavors. He will be available to congregations, districts, and conference leaders to equip them for our anti-racism initiatives."
Caleb is an experienced author and editor, speaker and scholar. He served in Vietnam with Mennonite Central Committee and worked as Copy Editor for Thế Giới Publishers, an international publishing house in Hanoi, Vietnam, as a participant in Mennonite Central Committee's Serving and Learning Together program in 2018-2019. He also served as the History Project Coordinator for Mennonite Central Committee Vietnam in 2019-2020, and authored 65 Years of Walking Together: The MCC Vietnam Story. Along with the publication, he created rememberingmccvietnam.net
He has proficiency in Spanish and Vietnamese, and has extensive international experience, including time spent in North Africa and the Middle East, Europe, Southeast Asia, and the Americas.
Besides his writing and editing experience, he was Student Government Co-President at Eastern Mennonite University, where he chaired weekly senate meetings, hosted campus-wide discussions and events, and served as the primary liaison between the student body and administration from April 2017 to May 2018. He served as a Mission Inquiry Program Intern at New Hope Fellowship, a bilingual English and Spanish congregation in Greater Washington D.C. from May 2017 to August 2018. In that experience, he led weekly young-adult Bible studies, preached, visited church members and other congregations, assisted with events, and led music and worship.
"I'm honored and excited to fill this position. It's a great privilege to begin working with the Racial Justice Task Force and the many leaders and VMC members of all races who have been seeking racial justice in a variety of ways for years," Caleb noted. "VMC is already a racially and culturally diverse body, and it is my hope that through this work we can more fully embrace and understand our diversity while advocating for racial equity within VMC and beyond. With the Racial Justice Task Force's guidance, I look forward to walking alongside pastors, congregations, and conference structures as we engage in this important work."